This post may contain affiliate links, meaning if you book or buy something through one of these links, I may earn an affiliate commission at no additional cost to you. Learn more
If you want to spend more quality time with your significant other, look no further! These 30+ best couple games are sure to get you laughing and enjoying each other's company.
Whether you're looking for something new to try or just want some ideas for date night, these games are perfect for you. So grab your partner and get ready to have some fun!
Best Games for Couples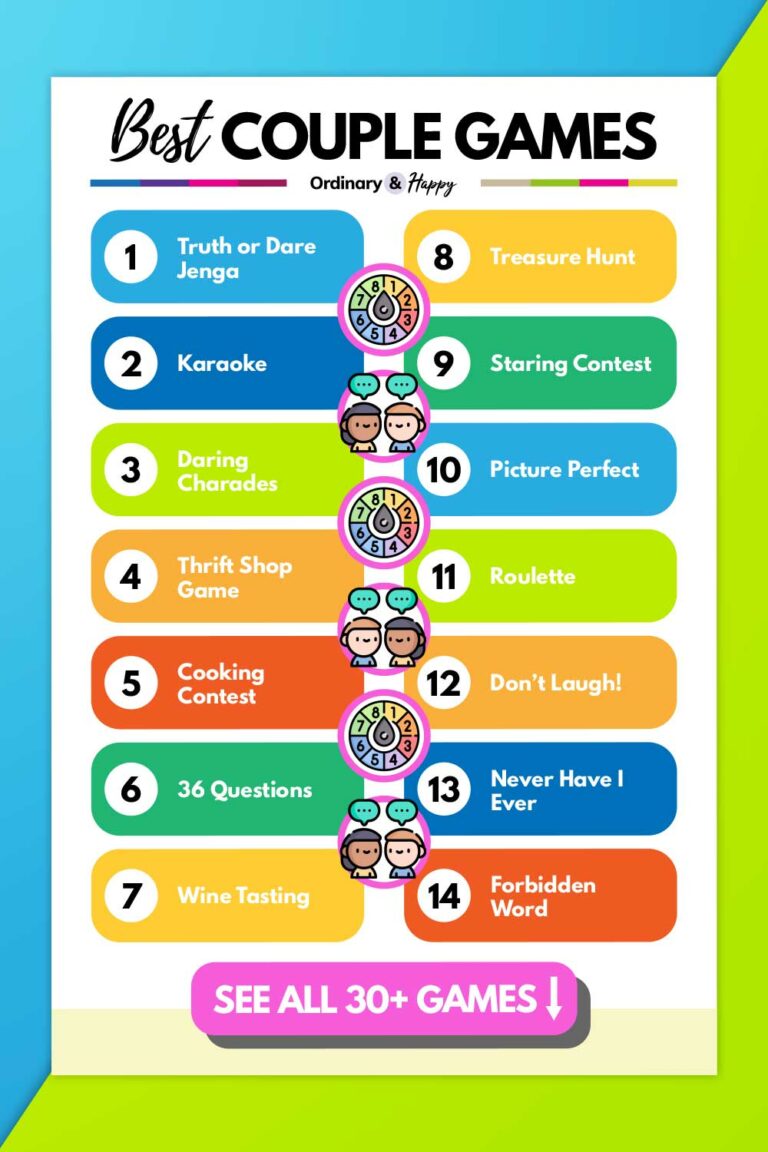 ---
Fun
1. Truth or Dare Jenga
Check Price on Amazon
A game of Jenga never disappoints, especially not this cheeky version!
Both of you grab a pencil and write down some romantic, silly, or naughty truths and dares on the Jenga pieces. Play Jenga as usual and complete the truth and dares as you draw them.
2. Karaoke
Check Price on Amazon
Erm, do we need to say more? Dust off that old karaoke machine or get a new one, and look up some karaoke versions of your favorite tunes online.
Whether you have a sing-off or a romantic duet, fun and laughs are guaranteed!
3. Daring Charades
It's classic charades, but with an exciting twist. Choose a theme and act out phrases for each other.
Every time your partner guesses it wrong, they have to complete a dare, like taking a shot or, for a less PG version, removing a piece of clothing.
4. Thrift Shop Game
This game is perfect for when you're having a day out in the city. Find a thrift shop and pick out an outfit for each other.
No matter how silly or embarrassing the outfits are, you both have to flaunt them around for the rest of the day!
5. Cooking Contest
Foodie couples, this is the game for you! Buy all the ingredients for your favorite comfort food, and let's get cooking.
Both of you will make your own version of the dish, and you will taste-test both versions together. Who do you think the chef in your relationship will be?
---
Romantic
6. 36 Questions
36 Questions is a set of structured questions developed by a psychologist, which are scientifically proven to make your love for each other even stronger. Look up the list of questions and get intimate!
7. Wine Tasting
Not really a game, but still a perfect idea for date night. You can head to a winery, but we actually think that the home version of wine tasting is much more fun.
Stock up on fancy wines, some cheeses, and candles to bring those romantic Paris vibes to your own home.
8. Treasure Hunt
Treasure Hunt is the ideal game to make your partner feel extra special. Prepare some cute notes to guide your partner through the treasure hunt, ultimately leading them to the gift you have planned for them.
9. Staring Contest
Think staring contests are just for laughs? Wrong! Actually, this simple game can strengthen your connection and attraction to each other. Whoever looks away or laughs first, must complete a funny or cheeky dare.
10. Picture Perfect
If you've been with your partner for a long time, this game will get you nostalgic!
Print out 20 to 30 of your favorite pictures together, and put them in the right chronological order. This trip down memory lane will spark those romantic feelings in no time.
---
Drinking
11. Roulette
Feeling lucky tonight? Grab a set of shot glasses, fill 2 or 3 with liquor, and fill the rest with water. Shuffle them, divide them among the two of you, and drink in turns.
Whoever gets alcohol, performs a dare. Do as many rounds as you can and make it an (un)forgettable night!
12. Don't Laugh!
Find a couple of funny videos online, like classic Vines, funny cat videos, or a comedy show. Watch them together, and whenever one of you can't control their laughter, grab a shot!
The drunker you are, the funnier this game is, we promise.
13. Never Have I Ever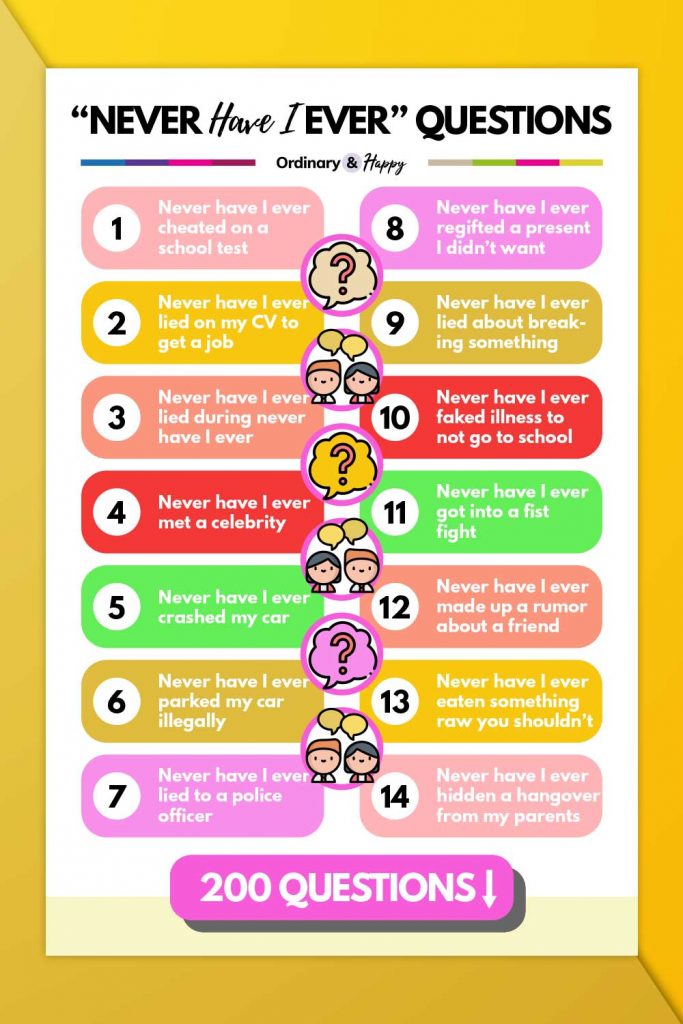 Do you know your partner as well as you think you do? Let's find out! Take turns in stating an action or experience, like "Never have I ever serenaded someone." Your partner has to take a shot if they've done it!
Read more: 200+ Never Have I Ever Questions
14. Forbidden Word
You can make this game very challenging for your significant other! First, think of a story your partner has to tell you. The catch? You also think of a word that your partner can't use while telling the story.
While they're storytelling, you can ask questions to try to make them say the forbidden word. If they accidentally say it, they have to take a shot.
15. Movie Drinking Game
Pick out your favorite movie and choose 3 to 5 frequent actions or phrases in the movie.
Every time these actions or phrases come by, you both have to take a shot! This will get you buzzed in no time.
---
Road Trip
16. Atlas
Keep your sleepiness at bay with this classic road trip game. One person names a country, and the other person has to say another country which starts with the same letter that the first country ended on ("Argentina, Afghanistan, Nepal").
Switch it up by playing variations of the game with other themes, like capital cities, animals, or car brands.
17. License Plate Stories
Stuck in traffic? This game will actually make that fun. Pick a license plate and make a sentence with the letters, for example, KLMZ (3542) – Kinky Lion Massages Zebra.
Make it more difficult by picking specific themes, like only animals or naughty sentences!
18. Guess That Song
If you and your significant other are big music fans, this one is for you! Connect your phone to your car radio and find the karaoke version of your favorite songs.
If your partner recognizes the song in the first 10 seconds, they get a point. Singalong the whole song for more fun!
19. 10 Questions
Think of an object, a celebrity, a movie, or anything else. Your partner will have to guess what or who you're thinking of, but they can only ask 10 questions. Take turns and see who's the guessing champion!
20. Stripping Game
This game is only for the true daredevils out there. Before you start the road trip, pick a rare car color.
Try to spot the car as often as possible on the road. Whenever you spot the car first, the other must remove a clothing item, and vice versa.
---
Card Games
21. Love and War
Grab a regular deck of cards, mix well, place it face down on the table, and pick a card each. The person with a card of higher value can ask their lover any question.
If you have the same value, both of you take 3 cards. Whoever has a higher value then has to give the other a dare!
22. Exploding Kittens
Check Price on Amazon
A personal favorite of ours. Exploding Kittens will test your speed, luck, and strategic thinking all at once.
You and your partner will take turns drawing cards off the deck. It's all fun and games until you draw an exploding kitten. Good luck!
23. Red or Black
Basically the romantic version of Higher or Lower! Make sure the colors are mixed well, and place the deck face down on the table. Take turns in guessing if the color your partner draws is going to be red or black.
If you guess the color right, then you'll guess if it's higher or lower than the previous card. If you don't guess the color, you drink. If you don't guess the higher or lower, you have to perform a dare!
24. Uno Dare
Check Price on Amazon
Uno is guaranteed to bring out your competitive side, but the stakes of drawing cards are even higher with Uno Dare.
Certain cards have dares on them, which the drawing player has to perform. The included dares are PG, but feel free to make up cheekier ones yourself!
25. Strip Poker
If you're both seasoned poker players, why not spice your regular game up during date night?
The loser in a hand has to remove an item of clothing as punishment. You can probably guess how you decide the winner and the loser…
---
Texting
26. Emoji Mania
Can emojis really say more than words? First, agree on a theme, like movies or song titles.
Take turns in creating a row of emojis to show what you want to say. Let your partner guess. Whoever gets most wrong has to treat the other to dinner!
27. Trip of Dreams
If you and your other half consider yourselves globetrotters, this is a super fun activity for you.
Decide on a country to travel to and plan an itinerary together! Make it realistic and detailed. How romantic would it be if you actually end up going?
28. What If
This is a very simple game, but it might reveal your lover's weirdest side. You take turns asking each other creative, whacky, or random questions like "What if you woke up one day and were the only person on earth?", and wait for their answer.
Need a little inspiration? Choose from our list of 100+ What If questions and see where the conversation takes you.
29. Strip Trivia
Play this one if you're feeling cheeky (and fully trust each other). Send each other trivia questions.
Each time someone answers wrongly or surpasses the 10-second time limit, they have to take off a piece of clothing and send a selfie as proof!
30. Abbreviation Fun
This is a fun game to use all those inside jokes (or flirty energy) between you and your other half!
Think of a sentence or phrase and type together the first letter of each word. See who can guess the most abbreviations.
---
More Games
31. Who Are They?
Perfect for a quick laugh if you're out and about. Find another couple and guess their story. Or have even more fun and make up a story about them!
32. Roleplay
Roleplay can be as flirty as you make it. Choose characters that you and your partner both like and pretend to be them.
You can even try to dress up like them and copy their mannerisms. Fun (and sparking chemistry) is guaranteed!
33. Video Games
Video games are always a hit! If you have a games console, get ready for endless fun with your partner in crime, either playing together online or against each other.
---
These super fun games are bound to add plenty of joy and laughs to everything from date nights to casual evenings on the sofa together. Enjoy quality time with your partner, and have plenty of fun along the way.
You Might Also Like to Read
---
Keep these awesome couple games for safekeeping by saving this article to one of your Pinterest boards.