This post may contain affiliate links, meaning if you book or buy something through one of these links, I may earn an affiliate commission at no additional cost to you. Learn more
Give your teenage son or daughter and their friends a joyous birthday to remember with these teen birthday party ideas, and be sure to call in the party favors when they're older and you're celebrating a milestone age!
Teen Birthday Party Ideas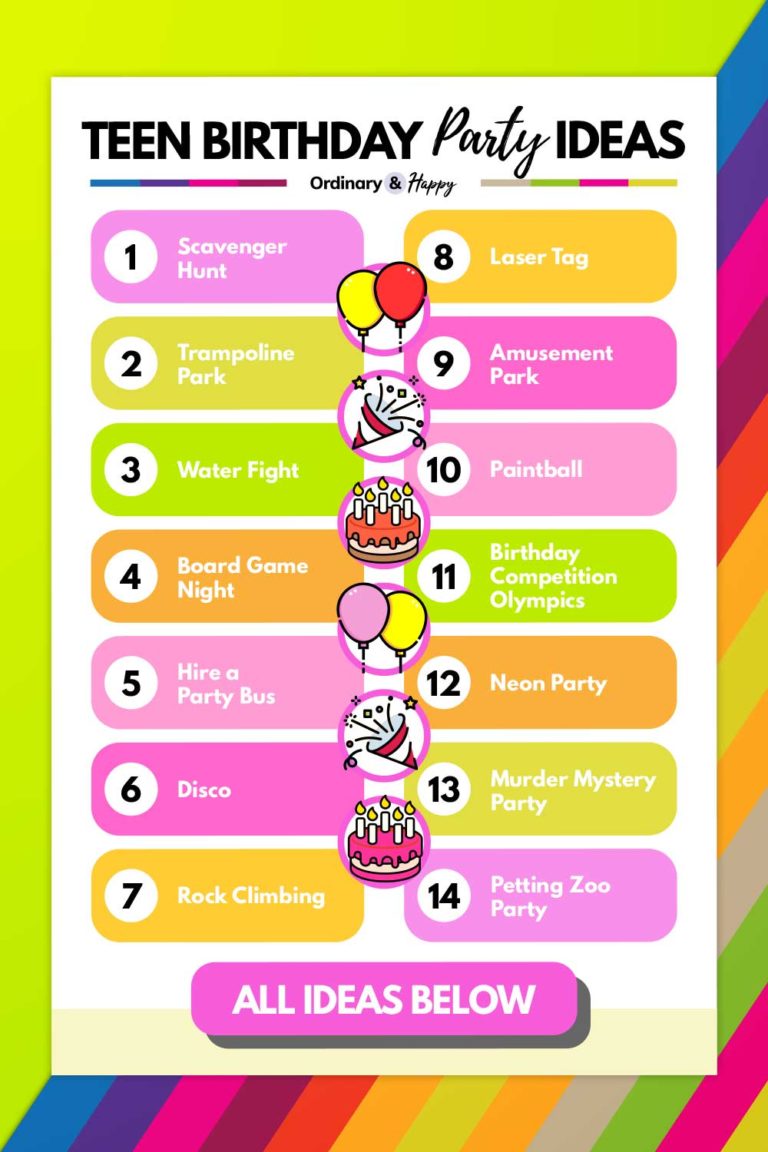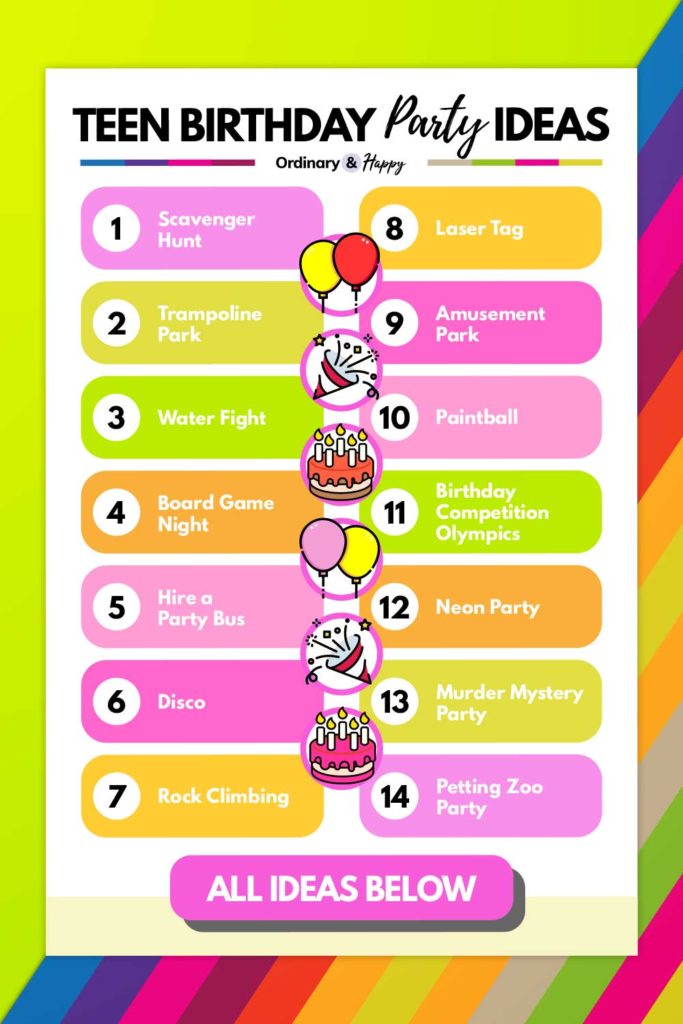 ---
Fun
1. Scavenger Hunt
Split your party into teams and send them on a scavenger hunt! This is a great way for your guests to have fun exploring your house, mall, local neighborhood, or across your town/city.
You'll need to make a list of items for everyone to find or take pictures of, such as a photograph of the oldest item they can find, or a snap of the team doing a human pyramid – the more creative, the better! They could even print out the pictures at the end of the day to make a collage to keep as a memento. Fun teen party ideas rarely come more enjoyable than this.
2. Trampoline Park
Taking your teen and a bunch of their friends to a local trampoline park is a really fun way for them to celebrate. Be sure to bring some snacks and drinks for them as all that jumping can be super tiring!
3. Water Fight
For a birthday party idea that's ideal for a summer birthday, a water fight is a super fun way for teens to celebrate.
Make a bunch of water balloons the day before and leave buckets of them around the garden, fill up a load of different water guns (guests could also bring their own to cut down the cost), and let them go wild.
Have some ice cream and soda ready for half-time refreshments and also stock up on clean towels to dry everyone off afterward.
4. Board Game Night
Get your son or daughter and their friends together to play board games, and even ask their friends to bring their favorite games along for a great teen party idea everyone can get involved in.
Offer a variety of games for your guests to play throughout the party, you can even include card games or a trivia quiz to mix things up.
5. Hire a Party Bus
Celebrate in style with one of the original cool birthday party ideas. Stock the bus with delicious food, plenty of games, party decorations, a dance-worthy playlist, and your own cake for an evening the birthday boy or birthday girl and their friends will love.
---
Cool
6. Disco
Set up some fun disco lights, invite everyone to dress up in their best disco outfits, and dance the night away. You can find a ton of pre-made playlists online, or you can put one together yourself filled with your favorite tunes.
7. Rock Climbing
Head down to your local climbing center for an adrenaline rush like no other! Take your teen with a few friends and let them test their rock-climbing skills.
It's usually fine to let them try whichever walls they want, but most climbing centers will also have the option to hire an instructor if you'd prefer to give them more supervision.
8. Laser Tag
Grab your laser gun and get ready for battle! Depending on numbers, the center will either split the group into teams to compete against each other, or they will set the game to be a free for all, with everyone targeting everyone else – the latter tends to work better for smaller groups.
9. Amusement Park
Thrill-seekers will go wild for an amusement park party. There aren't many more exciting places to be than the front row of a rollercoaster zipping through the air.
Pack a bag full of refreshments to re-energize in between rides and don't forget to pull a silly face for the mid-coaster photographs!
10. Paintball
What better way for your teens to celebrate than running around, getting covered in dirt, and playing paintball?!
This is a sure winner for adventure-loving teens, and they'll be laughing about this paintball party for years to come!
---
Unique
11. Host a Birthday Competition Olympics
Have a look at the Guinness World Records book for some fun ideas of challenges to set up or take inspiration from. For example, who can eat the most crackers in 30 seconds, or who can hula hoop for the longest amount of time without dropping it.
Make sure you have a clipboard and a timer at the ready. Hold a prize ceremony at the end of the day for each contest, as well as some funny ones like "biggest mess made"!
12. Neon Party
A neon party will be one your party guests can get really excited about. Your teen and their friends can dress up in fun neon outfits – think leg warmers, funny socks, bright shirts.
Turn the lights down, switch on a black light, and don't forget to hand out glow sticks and glow-in-the-dark necklaces for a dance party like no other. You can also buy glow-in-the-dark balloons and decorations from most party stores.
13. Murder Mystery Party
Your teen and their friends will have so much fun searching for clues to solve a fictional murder in a fun murder mystery party celebration.
You can set up a fake crime scene in your house, garden, or backyard, with props such as tape, evidence markers, and fake blood.
14. Petting Zoo Party
Bring the animals to your party by hiring a mobile petting zoo! This will be a wonderful treat for any animal lover, they'll have the best day petting all the adorable animals.
Make sure to research which animals the company will be bringing
---
For Girls
15. Sleepover Party
Iconic for a reason! A sleepover is a great party idea for your birthday girl and is a fun and simple way for your teenage daughter and her friends to celebrate her birthday.
Set up the room with lots of pillows, cozy blankets, and Christmas lights. They can pamper each other with facemasks and nail polish, listen to music, watch a movie, and play party games like truth or dare with plenty of soda, snacks, and a little junk food.
16. Karaoke Party
Time to warm up your singing voice! A karaoke party is a great way for your teen and their friends to perform their favorite songs together.
Set up a little stage, load up a bunch of fun party songs (the cheesier the better), and sing along to the tunes. There are loads of karaoke tracks on YouTube, so as teen birthday parties go, this is one of the most simple to set up.
17. High Tea
For a classy party, why not host high tea? You can set up a pretty table with a tablecloth, mugs and saucers, cute little sandwiches and cakes, and of course a perfect pot of tea.
Your teen's friends are invited to wear their finest tea-time attire and enjoy the refreshments – pinky fingers up!
Read more: Fun Tea Party Ideas for Adults (Activities, Games, and More)
18. Pottery Decorating
Let your creative side out by decorating some pottery. This can either be done by purchasing plain ceramics and some pottery paint or by visiting a local pottery store and seeing if they can host you for an afternoon.
Each guest will get to keep their own creation which is the perfect party favor to remember the day.
19. Instagram/TikTok Party
This teenage birthday party idea is ideal for any Instagram/TikTok-loving teen and their friends, and also a great excuse for a costume party.
Set up a photoshoot with their friends, and be sure to have props and accessories and changes of clothes. If you're going all out, you could even hire a photographer! Print out and frame the best pictures as party favors!
20. Manicure Party
As teen parties go, this is absolutely one you'll want to get involved in, too! Let your girl and her friends have a birthday-themed afternoon of relaxation and having their nails done at a local beauty spa.
---
For Boys
21. Gaming Night
Your gamer teen and his friends will love a fun gaming party! Set up the living room with lots of snacks, comfy pillows and bean bags, and a bunch of game consoles to keep them entertained all night. You could even level up and set up a projector for the night.
Adding a competitive element such as a leaderboard or small prizes for the highest scores will make the party even more exciting. As private parties go, this is one of the easiest to facilitate.
22. Go See a Sports Game
The perfect party idea for a group of sports-obsessed teens. Find a team that they're fans of who is playing nearby and take them to watch the game. Hotdogs, soda, and team merchandise (foam fingers are always a winner) are optional extra costs that will definitely be appreciated.
23. Survival Challenge
Not for the faint-hearted! Organize some seriously cool survival challenges for your adventurous teen's party, such as setting up an assault course and purchasing edible insects to try eating.
You can even teach survival skills like building shelters or cooking over a fire (supervised, of course).
24. Play Mini Golf or Visit a Driving Range
If your teen enjoys playing golf or wants to try something new, why not take them and their friends to a driving range for the day to practice their shots or a local mini-golf course to test their putting skills.
25. Fear Factor Party
A Fear Factor-Inspired party will have teens and their friends crying with laughter. Set up some challenges such as "guess what's in the box" where blindfolded guests will have to put their hands in a box and guess the contents – gross-feeling things like mashed up tomatoes or slime will work perfectly.
---
Themed
26. Themed Movie Night or Oscars Party
Throw a movie-themed party by having guests dress up as iconic movie characters. Be sure to decorate the room with movie props and posters – you could even roll out a red carpet for the full celebrity effect.
Screen a favorite movie on TV or using a projector and don't forget to serve your guests popcorn so they feel like they're in a movie theater. You could even set up an outdoor movie night if your backyard is big enough and the weather is warm.
27. 70's Party
Why not host a groovy 70's disco party for your teen's celebration? A funky 70's playlist is an absolute must for this party.
Encourage guests to wear their best 70's outfits and break out their coolest 70's disco moves.
28. Harry Potter
As birthday party themes go, this one is sure to bring about plenty of party fun. Have a magical party for your teen by setting up the room to look like Hogwarts using pumpkins, candles, and Hogwarts-themed props to set the scene, such as banners in the house colors, a sorting hat, or toy owls.
You can find tons of Harry Potter-inspired foods online to fill up your snack table; why not make some Butterbeer for your guests to drink? You can organize some Harry Potter-themed games, a quiz, or screen your favorite of the movies. The ideal way for any fan to celebrate!
29. Fiesta Party
You can have a lot of fun decorating your home for a Fiesta party – don't forget the pinata and sombreros!
The beauty of this theme is that you get to enjoy some delicious Mexican food with your guests, like tacos and nachos. You can also make it a music-themed party with some traditional Mexican music.
30. Luau
Host your own Luau to celebrate your teen's birthday. Set up the party with tropical decor and hand out flower leis to guests upon arrival.
Everybody can wear colorful shirts and grass skirts while they dance to Hawaiian music. You can serve delicious pineapple mocktails and have Hawaiian barbeque – oh, and remember to set up a limbo contest!
31. Carnival-Themed Party
Bring the joy and color of carnival to your own home or hired function room, and go big on the costumes.
Bring your own pizza and snacks, get some inexpensive trophies to hand out to the costume winners, and organize a parade.
If you host this outdoors, you could also hire a food truck to keep everyone fed.
---
Indoors
32. Escape Room
An escape room is the perfect party for teens who enjoy puzzles and games. There are many companies that run themed escape rooms filled with different puzzles to solve before the timer runs out.
They're always a fun challenge and a great way for your party to work together to solve the puzzles.
If you have the time (and patience) you could even set up your own escape room for the teens to solve. Either get creative or get an Escape Room at-home kit and let the fun games commence!
33. Cake Decorating
A fun, and delicious, way to celebrate a keen baker's birthday is to have a cake decorating party for various cakes or the birthday cake itself.
Make or buy a bunch of different cakes, cupcakes, or cookies as well as icing and candy for toppings and let your guests decorate their own sweet treats.
Bring out your inner Cake Boss and give awards to the prettiest or most creative decorators.
34. Pizza Night
A pizza party is a great way for your guests to try their hand at making this classic Italian dish and, let's be honest, is nearly all teens' favorite food!
Pizza dough is super cheap and easy to make with just flour, yeast, and water. Everyone can shape their pizza dough, smother it in sauce and add toppings to their heart's desire. Handing out cute chef hats and aprons would also be a fun touch to this party.
35. Casino Night
Transport your teens to Vegas by setting up the room with props to make it look like a casino!
Start by making the party room look the part with a roulette wheel, playing cards and chips to make bets. Your teens can bet with candy or Monopoly money they can exchange for small, fun prizes at the end of the party.
36. Arts and Crafts Party
A dream party for any budding artists! You can get creative with the setup for this party, set up easels, paint, sponges, and any other materials for your teens to let their inner Picasso out for at least a few hours, if not longer.
---
Outdoors
37. Beach Party
If you live near the coast, a beach party is super fun and simple to set up. Once you've chosen a good spot, set up some chairs and blankets, then either a BBQ or picnic would be ideal for lunch or dinner.
Don't forget to bring a speaker to play some party tunes and also some games for your guests to play like beach volleyball and limbo.
38. Camping Party
You can throw a brilliant camping party in your garden, or if you're feeling adventurous, head somewhere out in nature.
Set up a few tents, a campfire, or barbeque if you can to make s'mores, and take turns telling stories and playing a few games outdoors.
39. Birthday Picnic in the Park
Find a cute local park and set up a picnic area with blankets for your party to sit on. You can bring plenty of food and drinks for everyone to enjoy, including sandwiches, cakes, chips, and pastries. You may also want to bring some games for people to play, like a frisbee or a football.
Read more: Picnic Essentials and Picnic Food Ideas
40. Pool Party
A pool party is ideal for a teen's summer birthday celebration. Invite friends around, be sure to have plenty of refreshing snacks and drinks ready to refuel, and bring a speaker for a fun party atmosphere.
Fun inflatables will also be super popular with the teens. If there's space, you could set up a slip 'n' slide using a plastic tarp and some washing-up liquid.
41. Garden Party
Hosting your teen's party in your own yard means that you get to decide on the theme and how casual it is.
You can set up a Bluetooth speaker with a party playlist, decorate your garden to make it festive, and grill some delicious burgers and hot dogs to also make it an outdoor dinner party.
---
Hopefully, more than a few ideas from this list of fun, creative, and amazing birthday party ideas can help inspire you to plan a party your teen, their friends, and even the whole family will enjoy.
Teenage birthdays come and go so quickly, so be sure to cherish each one, and mark it with a celebration you will all remember for many years to come.
You Might Also Like to Read
---
Keep these teenage birthday party ideas for safekeeping, ready for future birthdays, by saving this article to one of your Pinterest boards.