This post may contain affiliate links, meaning if you book or buy something through one of these links, I may earn an affiliate commission at no additional cost to you. Learn more
Celebrate your sixteenth birthday in style with these great sweet sixteen party ideas, and give this milestone birthday the celebration it deserves with your closest friends and family.
Sweet Sixteen Party Ideas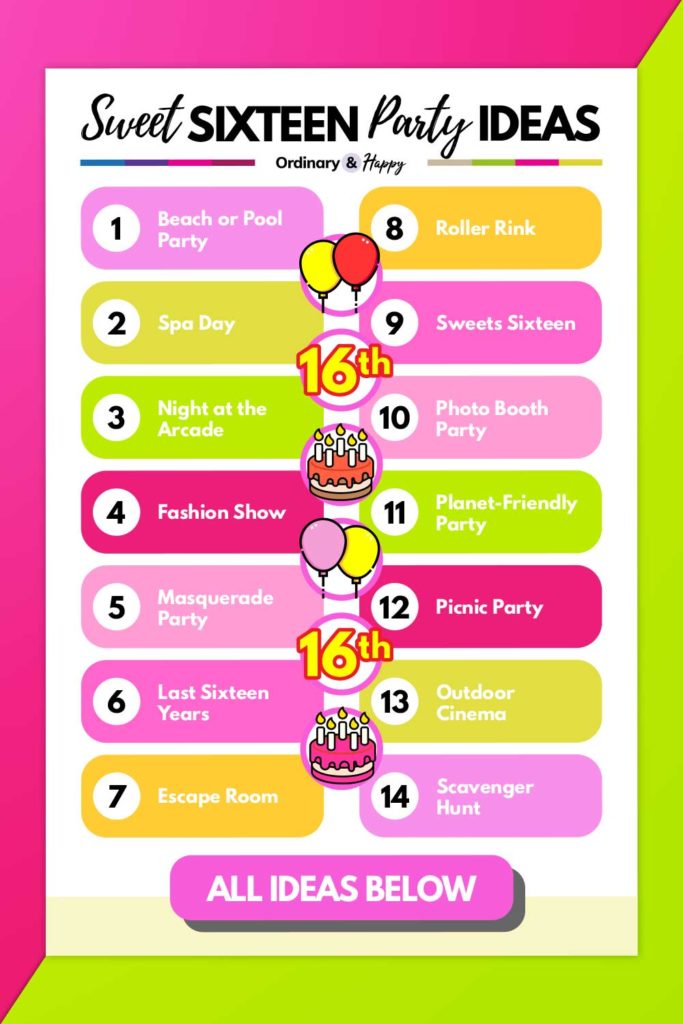 ---
Fun
1. Beach or Pool Party
Grab your swimming costume and head to your nearest body of water for a sweet sixteen to remember. Whether it's a swimming pool or the beach, you're guaranteed an afternoon of fun with your besties. Bonus points if you pack some hilarious inflatables!
Related: 100+ Things to Do at the Beach (Bucket List)
2. Spa Day
A sweet sixteen birthday marks the transition into becoming a young adult, so what better way to celebrate than a super sophisticated spa day?
Simply grab your closest friends and head to a luxurious spa for a day of fancy treatments and hanging out in the jacuzzi. You're bound to feel like a star with specialized spa treatments and access to relaxing swimming pools and saunas.
Related: At-Home Spa Day Gadgets and Essentials You Need to Try
3. Night at the Arcade
For a fun idea, indulge in some retro fun, battle it out with your besties, and let your competitive streaks ignite in a head-to-head gaming tournament at the local arcade!
From driving games to classics like Pac-Man, you won't run out of things to play. Wash the whole thing down with a slushy and a hot dog for the authentic arcade experience!
4. Fashion Show
Have you got an old dressing-up box in your house full of fun costumes and retro outfits? Put it to good use with a fashion show for your sweet sixteen party!
For a great idea, simply invite a group of your best friends over, set out a 'catwalk' area in your front room, delve into your dressing-up box, and let the fashion show commence!
5. Masquerade Party
As fun ideas go, this party idea is right up there. Use the intrigue and aura of a masquerade ball to mark your sixteenth birthday with class, and plan a party that has lots of music, dancing, and mystery.
---
Unique and Memorable
6. Last Sixteen Years
For this themed sweet sixteen party, your guests can come dressed as anyone or anything… as long as it's from the last sixteen years!
Think TV shows, movie characters, popular songs, and cartoons – the only rule is they must have been released after you were born. You're guaranteed a hilarious night seeing which costumes all your friends come up with, plus indulging in a little nostalgia.
7. Escape Room
What happens when you put some amateur sleuths in a locked room that requires puzzle-solving skills to escape? An escape room, of course!
For a sweet sixteen with a unique twist (and a fair amount of brainpower required), gather your best problem-solving pals for an afternoon at an escape room.
8. Roller Rink
There are few hobbies more associated with teen years than rollerskating. Grab your best friends and balancing skills, and head to your local roller skating rink for a hilarious day filled with music, lights, and cool roller moves (hopefully with no falls)!
9. Sweets Sixteen
What better way to celebrate your sweet sixteen than with actual sweets?! For a 16th birthday as sweet as sugar, deck out your house with a selection of your favorite candy and invite your friends over to enjoy it.
You could even play a blindfolded game of 'guess the candy' to separate the sweet novices from the candy connoisseurs!
10. Photo Booth Party
Teens these days are already well-versed in the art of the selfie, so why not add a fun twist by hiring a photo booth! Many booths come equipped with hilarious props and outfits so you can have a photoshoot that's truly unique.
The best part? After the party's over, you'll have a set of hilarious, sweet sixteen photos to keep in your memory book forever.
11. Planet-Friendly Party
Sixteen-year-olds these days are more environmentally friendly than ever before, so why not reflect that social consciousness in your party theme?
Opt for a planet-friendly party complete with vegan snacks, paper straws, locally-sourced food, and sustainable decorations (compostable confetti, anyone?).
You'll have a fun-filled evening with friends, plus you can rest assured that you're not harming the planet.
---
Outdoors
12. 'Picnic' Party
One of the best ways to celebrate a birthday outdoors is with a picnic party, but this one's got a twist. Instead of taking the picnic to the park, bring the park to you by hosting a picnic in your own backyard!
Simply lay down some blankets, grab a hamper full of delicious picnic foods and some juices of your choice, and invite your nearest and dearest for a picnic to remember. Bring a sweet sixteen cake and some candles to really for a sweet sixteen birthday party that everyone will love!
13. Outdoor Cinema
We all love going to see the latest movies. The atmosphere, the popcorn, and seeing the special effects on the big screen all add to an unforgettable experience. The only thing that could make a cinema trip better? An outdoor twist!
Enjoy your sweet sixteen at an outdoor cinema, either by attending a local outdoor cinema or buying a projector and projecting your favorite film for an outdoor movie party in the backyard with your closest friends.
14. Scavenger Hunt
A scavenger hunt is one of the most unique and entertaining ways to celebrate this once-in-a-lifetime birthday. Depending on the budget, you can host a scavenger hunt at home in your yard or your local area, but the principle is the same, whatever the location.
Set up a range of objects and clues to help participants find the next object. The first person to find the final object wins a prize (which, in this case, could be the biggest slice of birthday cake)!
15. Grill and Chill
If your sweet sixteen falls when the weather's good, opt for the classic summer activity to celebrate – a BBQ, of course!
Pair the delicious grilled food with hit summer songs, classic party games, and mocktails for the ultimate 'grill and chill' party.
---
At Home
16. Mocktail Making
Sixteen is under the legal drinking age, but it doesn't mean you can't enjoy some stylish and sophisticated cocktails – just ones without any alcohol! Gather your buddies at your house for a mocktail-making session.
You can either sign up for a mocktail masterclass with a professional or simply find the recipes online and give it a whirl. Either way, you and all your guests will get to try some delicious drinks.
17. Winter Wonderland
If summer leaves you feeling cold, opt for a winter wonderland-themed birthday bash, no matter the weather. Transform your front room into the North Pole with white decorations, fake snow, and cozy rugs and blankets.
Iced treats such as slushies and ice pops should be on the menu for this innovative winter-themed party. Bonus points if your guests come dressed as their favorite winter character!
18. Dance Party
If you're hosting your sweet sixteen at home but want to create that disco atmosphere, host a dance party!
Simply rent or buy some disco-themed decorations (disco ball, anyone?), make a playlist full of classic tunes, and dress up in your finest party outfits or favorite disco attire.
Then, invite more than a few friends with the best moves for a night filled with music and fun. To add a competitive element, finish the evening with a dance-off and prizes for the winning team!
19. Backyard Campout
Who says you have to travel to go camping? Pitch a tent, hang some fairy lights, and enjoy a camping trip from the comfort of your own backyard! Bonus points if you create a campfire for toasting marshmallows.
20. Lip Sync Contest
For a night filled with hilarity without leaving the house, host a lip-sync contest!
The rules are simple. Each guest picks a song of their choice and lip-syncs to it in style, complete with dance moves and celebrity impersonations.
A trusted third-party judge (such as your parents) then selects the most convincing lip-sync act to win a prize.
21. Pizza Party
What do you get when you combine everybody's favorite meal with a group of best friends, music, and games? A pizza party!
Gather your nearest and dearest together for a night of enjoying Italy's most famous import from the comfort of your own front room. \
You can either set up a make-your-own-pizza station complete with popular toppings or order takeout if you're feeling a little less creative.
---
Themed
22. Disney Party
For a theme that everybody can get behind (adults included!), opt for a Disney-themed party.
Guests can come in costume as their favorite character from a Disney theme or TV show, and the soundtrack contains some of Disney's best-known classics (Circle of Life, anyone?).
23. Great Gatsby Party
Take it back to the swinging 1920s with a flapper-themed party. Think fringed dresses, pearls, and an upbeat jazz soundtrack to recreate F Scott Fitzgerald's famous creation with a party that even Gatsby himself would be impressed by!
24. 2000s Dance Party
There aren't many decades that sixteen-year-olds will remember, but the 00s is one of them! Throw a 2000s-themed dance party complete with songs from the decade.
You could even add in the requirement that guests come dressed exclusively in 00s fashion – double denim, anyone?
25. Harry Potter Party
Harry Potter is one of the most beloved series of books and movies from the last 20 years – so why not throw your party in honor of this famous creation?
For the dress code, guests could dress up as their favorite character from the Harry Potter series. Games to include a sorting hat experience, and butterbeer should be the drink of choice.
26. Hollywood Party
To bring a little glitz and glamour to your 16th birthday celebrations, throw a Hollywood-themed party.
Guests should arrive dressed in outfits worthy of a movie star, and you should adorn your home's entrance with a red carpet, so your attendees feel like the superstars they are.
Bonus points if a parent plays the role of paparazzi and takes some memorable snaps!
27. Favorite City Party
Have you ever wanted to take a trip to Paris, Rio de Janeiro, or Barcelona? Now you can!
For this fun party theme, the birthday girl or guy should choose their favorite city and transport guests there with decorations, music, and outfits traditionally found in that city. Think berets, striped T-shirts, and baguettes for a Parisian theme, or tapas, flamenco music, and paella for a birthday trip to Madrid.
---
For Small Groups
28. Gaming Party
If you're spending your birthday with a couple of your best buddies, you're guaranteed an evening of fun (and some healthy competition!) with a gaming party.
Select your favorite video games and battle it out head to head in a tournament for the ages. The winner gets dibs on the first slice of cake!
29. Afternoon Tea
Party like the Queen with your best pals in tow with some afternoon tea! This sophisticated activity will have you feeling like the young adult you'll become on your 16th birthday – plus, you'll get to enjoy tasty food and delicious drinks.
Read more: Fun Tea Party Ideas for Adults (Activities, Games, and More)
30. Truth or Dare
One of the easiest ways to entertain a small group for a 16th birthday party to remember? Play a game of truth or dare! You'll be in for an evening of shocking revelations and hilarious dares as you and your best friends choose between revealing your secrets or carrying out hilarious acts in this classic party game.
Need some inspiration? Our huge list of truth or dare questions can give you plenty of suggestions to keep the party fun and enjoyable.
---
On a Budget
31. Slumber Party
Who says budget birthdays can't be fun? If you want to celebrate your sweet sixteen on a budget, opt for a slumber party.
All you need is your best buddies, some comfy PJs, snacks, games, and maybe even a scary movie!
Read more: Fun Things to Do at a Sleepover for Adults
32. Party in the Park
For the ultimate budget outdoor birthday party, look no further than a party in the park.
You'll need a couple of picnic blankets, some refreshments, games, speakers, and your nearest and dearest. Simply head to your local park, play some music, and let the fun begin!
33. DIY Costume Party
Costume parties can be pricey for the host and guest if attendees decide to buy a brand new costume, so keep costs to a minimum by throwing a DIY costume party.
The rules are simple. You can dress as anybody, real or fictional, as long as the costume is made at home rather than bought from a shop.
You'll have a hilarious time seeing the outfits every guest has created, and if you want to add a competitive edge, you can hold a competition for the most creative costume!
34. At-Home Rave
If you can't make it to the rave, bring the rave to you with this fun-filled sweet sixteen party theme.
All you need are glowsticks, alcohol-free punch, and some awesome tunes for a night to remember. Simply switch the lights off, raise your glowsticks in the air, put your favorite playlist on the speaker, and let the dance party commerce.
The best part? It costs barely anything!
---
When it comes to sweet sixteen parties, nothing is too over the top! Sixteen is a milestone birthday, and it deserves to be celebrated in a way that is fun, classy, creative, or even all three.
Whether the birthday boy or girl wants a grand party with music and dancing or something fun and low-key with their closest friends, there are plenty of ideas on our list to help you get the party planning started!
You Might Also Like to Read
---
Is your son or daughter's sixteen birthday on the horizon? Keep these party ideas for safekeeping by saving this article to one of your Pinterest boards.