This post may contain affiliate links, meaning if you book or buy something through one of these links, I may earn an affiliate commission at no additional cost to you. Learn more
If you're tired of living in clutter and lost time, these habits of organized people can help you build routines, get more done, and feel happier, healthier, and productive.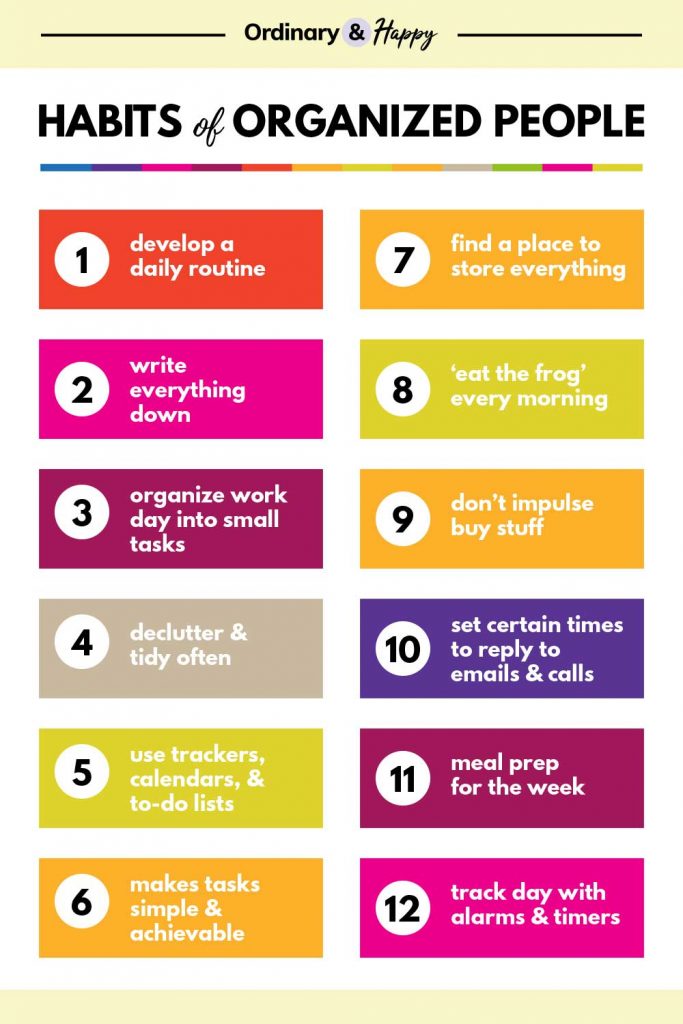 Getting organized is one of the hardest things to do. Life has a way of being unpredictable, and time seems to pass us by so quickly.
But organization is like many things in life. It is a skill that can be learned, and these simple habits organized people swear by are a great place to start.
1. They develop daily routines and stick to them
Organized people have days that run like a Japanese train schedule. From dropping off the kids at school to replying to emails, they develop routines that make sense for their life, and stick to it, no matter how difficult at first.
2. They write everything down
From simple emails to birthday reminders, people who are organized write everything down. And they use a reminder system, whether it be post-it notes or a digital calendar, to document all their notes.
3. They make their days task-driven
Organized people understand the importance of doing things. They split their day into manageable tasks, that can be assigned to certain times, while never losing sight of their long-term goals.
4. They declutter and tidy on a daily basis
It's easy to leave dirty dishes out or throw a hoodie over the back of a chair. In time, this all creates clutter.
Once or twice a day, organized people spend a little time decluttering, cleaning, and putting everything away. A decluttered home helps declutter the mind.
5. They use calendars, trackers, and to-do lists
Few people can track everything in their head, from memory. Whether it be on a computer or by hand, organized people use as many tools as they can to organize and track their days, schedules, weeks, and years.
Printable habit trackers and daily planners are a great place to start.
6. They set small, achievable tasks and goals to reach every day
When our to-do lists are too long or too broad, they become overwhelming. That leads to demotivation and stress.
People who are organized make their life easier by breaking everything they need to do down into small, manageable tasks. At the end of the day, they reward themselves for good work.
7. They find a place to store everything
People who are organized find a place for all their belongings in their homes. Even down to stationery, they invest in simple boxes, organizers, and drawers, to keep everything stored and easy to find.
8. They 'eat the frog' every morning
'Eating the frog' is doing one thing you're least excited about first thing when you wake up, and organized people do this all the time.
That way, they get their hardest tasks out of the way. Then, they can spend the rest of their day being productive and getting other stuff done.
9. They don't impulse buy things
Those who are organized understand that our homes can quickly fill up with stuff we don't need. They learn how to control spending, and treat themselves with days outs and experiences, rather than material things.
10. They set times for email and comms and stick to them
Emails, phone calls, and other work-related communication can end up taking up most of our days.
Organized people set aside windows of time to deal with this stuff, then shut it off entirely, if possible, when they need to do focused work and other tasks at home.
11. They meal prep on weekends
Often, we wait until we're hungry to eat. That leads to getting unhealthy takeaway food, eating at irregular hours, and losing time.
Organized people keep their schedules on track by preparing meals on weekends when they have free time. That way, they can eat healthy meals without disrupting their schedule.
12. They use alarms and timers to keep themselves on track
Those who are organized know the importance of time management. They use apps to track how long tasks take them.
---
Being super organized isn't going to happen overnight. But, it is not rocket science.
Develop a few or more of these simple habits, and in time, you'll feel like you're taking back control of your work, life, and health along the way.
You Might Also Like to Read:
Eager to become more organized? Save this list of habits of organized people to one of your self-improvement Pinterest boards for later reference.