This post may contain affiliate links, meaning if you book or buy something through one of these links, I may earn an affiliate commission at no additional cost to you. Learn more
Looking for fun, interesting, and unique ways to spend your spare time? These interesting hobbies to try could open you up to a world of learning, community, and a fun new pastime to fall in love with.
Interesting Hobbies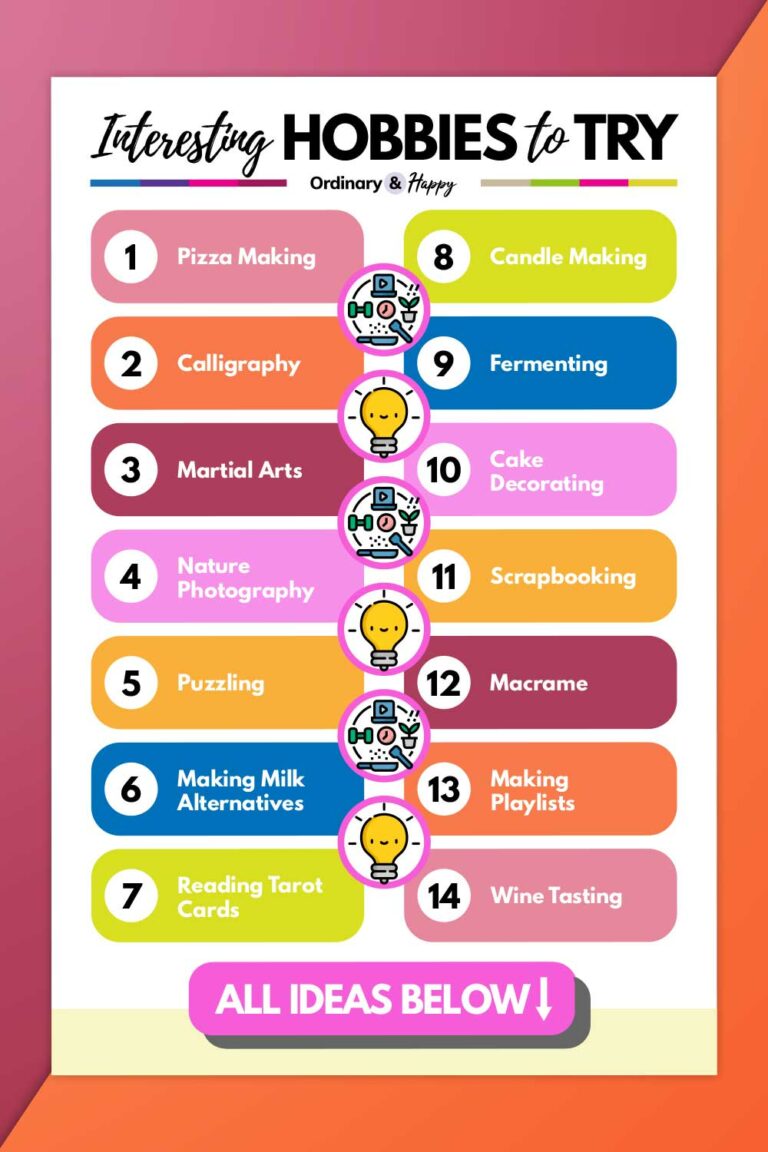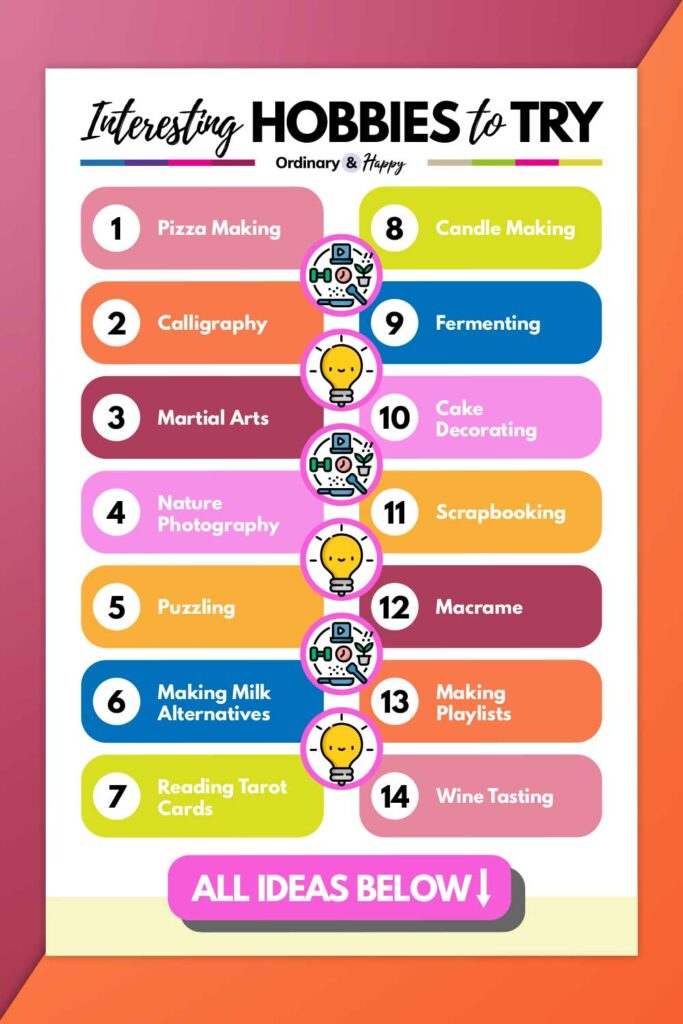 1. Pizza Making
The best types of hobbies are the ones that result in delicious food. If you're an aspiring cook and you want to become an expert at making one of everybody's favorite dishes, try your hand at pizza-making.
These days, outdoor pizza ovens like this Ooni pizza oven (on Amazon) are reasonably priced, and once you've unlocked the key to the perfect pizza dough, you can experiment with all types of topping, from blue cheese to pancetta.
Just be prepared to have the argument about whether pineapple does or doesn't belong on a pizza!
2. Calligraphy
In an increasingly digital world, we've lost the art of letter writing. But there's truly nothing more wonderful than receiving a hand-written letter with beautiful handwriting. If you're passionate about keeping the written word alive, take part in a calligraphy course.
Not only will you learn a new skill, but it's also a skill you can monetize, by designing calligraphy cards or writing calligraphy place settings for events like weddings.
3. Martial Arts
The benefits of self-defense are numerous; you learn how to defend yourself in dangerous situations, it's fun, and it's also an excellent form of exercise.
Whether you opt for karate or judo, every martial art comes with its own set of advantages, and it's an excellent way to try something new and make new friends.
4. Nature Photography
If you've ever wanted to become the David Attenborough of your generation, nature photography is one way to get into it.
High-quality cameras are becoming more affordable, and with the help of some online courses (or even just a YouTube video), you can sharpen your photography skills and take some shots that look genuinely professional.
The best part? If you hone your talents, you could end up taking photographs good enough to sell.
5. Puzzling
If you've ever spent hours on a jigsaw puzzle only to finally slot the last piece into place, you'll know how satisfying completing a puzzle can truly be.
With many of us desiring a return to a slower pace of life, jigsaw puzzles are a great way to spend your time. If you need an extra distraction, try puzzling with music or a podcast in the background.
6. Making Milk Alternatives
Plant milk alternatives such as almond and oat milk are becoming more and more popular, but they can often be more experience than traditional dairy milk. The solution? Make your own milk at home (yes, really!).
If you drink a lot of milk, you'll get a great return on investment with a plant-milk-making machine like this 8-in-1 Plant-Based Milk Maker (on Amazon), or you can use a cheaper technique – there are plenty online.
7. Reading Tarot Cards
Do you have a spiritual side? If so, reading tarot might be the perfect hobby for you. Some people believe strongly in tarot cards; others see them as a way to have a bit of fun.
Either way, reading your friends' and families' tarot is an excellent party trick and a great way to engage with your spiritual side.
8. Candle Making
There's nothing better than coming home to the smell of a delightful scented candle filling the air. Actually, there is – coming home to the scent of a candle you've made yourself!
If you like creating a relaxing atmosphere at home but don't want to waste tons of money on candles, learn how to make your own. Not only will your roommates thank you for it, but the candles will also make excellent affordable birthday presents for friends and family.
9. Fermenting
The idea of fermenting for fun might sound a little strange, but cultivating bacteria can actually result in some of the most delicious food and drinks out there.
Drinks such as kombucha and kefir have exploded into popularity, and they're filled with bacteria that make your gut healthier and improve your overall well-being.
Making these drinks at home is actually easier than you think. All you need are the right tools and a little patience!
10. Cake Decorating
Sure, baking is cool, but everybody knows the best part of the process is decorating the cake.
Whether you use icing, buttercream, edible glitter, or a bit of everything, cake decorating is an excellent way to unleash your creative side while making something thoroughly delicious.
11. Scrapbooking
Everybody enjoys taking a trip down memory lane, and scrapbooking is one of the best ways to create something physical where you can access your most meaningful moments.
Scrapbooking involves taking a photo album or journal and filling it with not just photos, but also tickets, souvenirs, quotes, and letters from key moments in your life.
Scrapbooking also allows you to create thoughtful gifts for friends and family to show them how much you truly care.
12. Macrame
Macrame is a type of textile produced using knotting, and the art of macrame results in beautiful ornaments, wall hangings, and plant hangers.
If you're looking for an inexpensive way to add something extra to your home, learning macrame allows you to create unique, one-of-a-kind pieces that will brighten up any wall or shelving unit.
13. Making Playlists
One of the best parts of logging onto Spotify, Apple Music, or any music streaming service is the playlists.
Playlists allow you to access music for a certain mood or event at the touch of a button, and they're perfect for discovering new songs.
Making playlists yourself, in fact, can be one of the most fun ways to spend your time if you're a music lover.
Whether you're putting together a study playlist or cultivating the soundtrack for your next birthday party, searching for the perfect songs (and putting them in the perfect order, of course) is a truly artistic endeavor.
You can even make playlists for friends and family members to show them just how much they mean to you.
14. Wine Tasting
Whether you're a novice to wine or a wine connoisseur, learning how to properly taste wine is perfect for anybody who loves the famous grape-based tipple.
Signing up for a wine tasting course is a great way to meet new friends while learning a new skill at the same time.
Plus, you'll be able to impress all your loved ones at the next party when you're identifying the grapes just on scent alone!
15. Learning a Language
Learning a language comes with a ton of benefits. Not only does it help you communicate with people from other countries and cultures, but it also makes travel easier and keeps your brain young (yes, really!).
As we age, we often treat our brains to fewer new experiences, leading to long-term problems with memory or problem-solving. Learning a language is one of the best ways to keep your brain young by engaging it to do a challenging and unusual activity. Plus, it's super fun!
16. Brewing Beer
If you're a beer lover, you're not limited to drinking only what's on the market. Why not? Because you can brew your own beer!
Once you've invested in the equipment, brewing your own beer is a relatively affordable hobby, and it results in a beer that's created perfectly to your taste. You'll never have to show up to a party empty-handed again!
17. Stand-Up Comedy
Were you the class clown at school? Do you always have a witty joke to make about a given situation? Do you feel comfortable talking to whole rooms of people? You might be suited to taking up stand-up comedy as a hobby (or even a career)!
For confident people with a strong sense of humor, stand-up comedy is a great way to push yourself out of your comfort zone while picking up new skills like public speaking.
18. Hiking
Some of the world's most beautiful places just don't look the same out of a car window. To explore them for real, you have to go on foot. Hiking is an excellent way to enjoy regular exercise while experiencing some of the planet's most picturesque scenery.
Wherever you live, you're sure to find some scenic spots where you can go hiking or at least go for a long, relaxing walk.
19. Pottery
Pottery is the best kind of exciting hobby – one that leaves you with a beautiful new homeware item at the end. If you want to channel your inner Patrick Swayze from 'Ghost', take a pottery class, and learn how to create items from vases to bowls.
You can put your newfound skills to good use by creating items for your house or to give to friends as gifts.
20. Meditation
Meditation is one of the simplest ways to reduce stress, and incorporating it into your daily routine, even for only ten minutes at a time, can have a huge impact on your well-being. It's also a great way to relax before bed and set yourself up for a great night's sleep.
If you're a beginner, using guided meditation videos on YouTube can help you to get into the swing of things, as can the wide variety of meditation apps you can get for your smartphone.
21. Pilates
Pilates is a type of exercise that involves holding poses and stretches – similar to yoga. It's great for your mental and physical health, and signing up for group classes can also help you meet new people. Win-win!
22. Mixology
Have you ever wanted to craft the perfect Cosmopolitan or become an Espresso Martini connoisseur? With mixology, you can!
Mixology is the art of creating cocktails, and it's the perfect hobby for those who love trying new tipples (and showing off at parties). Sign up for an online course like this one from Masterclass or join group classes to learn more.
23. Manicuring
You know those perfectly painted nails you see on social media, with funky patterns and cool details? You can create them yourself!
With the help of YouTube tutorials and online how-to guides, you can become an expert manicurist, with the ability to create one-of-a-kind designs on your and your friends' nails.
24. Camping
If you love spending time in nature and sleeping under the stars, you'll love camping. Not only is it tons of fun, but you'll learn valuable life skills, like putting up a tent and starting a fire. Not to mention the smores…
25. Archery
Archery may not be necessary for medieval battles anymore, but it's still a super fun way to spend your time and a great way to improve skills like hand-eye coordination.
Archery can be exhilarating, especially if you take a group of friends and go head-to-head to see who can get the closest to the target.
26. Crafts
If you want to connect with your creative side, try some arts and crafts. From sewing to creating handmade cards, there's no limit on the number of fun things you can make, whether you plan to use them as ornaments around your home or give them out as gifts.
27. Knitting
In a world with an ever-increasing focus on sustainability, being able to create and fix your own clothes is an underrated skill.
Knitting is an excellent way to create clothes you actually want (hello, winter sweaters in your perfect color) while entertaining yourself during quiet evenings. It's affordable, and – with plenty of practice – simple.
28. Foraging
Remember the days you spent picking berries in local forests during your childhood? Take this passion for natural exploration into adulthood by foraging for foods such as mushrooms and berries in your local area.
Not only is it great fun identifying the species of flora, but it's also a way to get delicious, fresh ingredients completely free of charge. Just make sure to check that nothing you pick up is poisonous.
29. Fostering Puppies or Kittens
Are you an animal lover with some spare time on your hands, but don't want the commitment of a forever pet? Foster cats or dogs in your local area!
Fostering is a great way to provide an animal with a temporary, loving home while they wait to be adopted. You get unlimited pet snuggles, and they get a warm, calming home – it's a win for all involved.
30. Dancing
Whether you want to shake your hips to salsa or strut your stuff doing the waltz, there are styles of dancing to suit every interest and experience level.
Grab a friend and head to a local class to learn some new moves. Don't forget to debut them on a dancefloor near you!
---
There are so many fun, unique, and interesting ways to spend some of your free time, as these intriguing hobbies go to show.
When you're feeling bored or like you need to get out, go try one or more or these activities. You never know, you may discover a hidden talent that had been there all these years, and make some new friends along the way.
You Might Also Like to Read
---
Looking for fun ways to spend some of your spare time? Keep these interesting hobbies on-hand for inspiration by saving them to one of your Pinterest boards.