This post may contain affiliate links, meaning if you book or buy something through one of these links, I may earn an affiliate commission at no additional cost to you. Learn more
Liven up a party, celebration, or event by gathering everyone around and playing some of these question games, perfect for easy fun, thrills, and laughs and completely free to play.
Question Games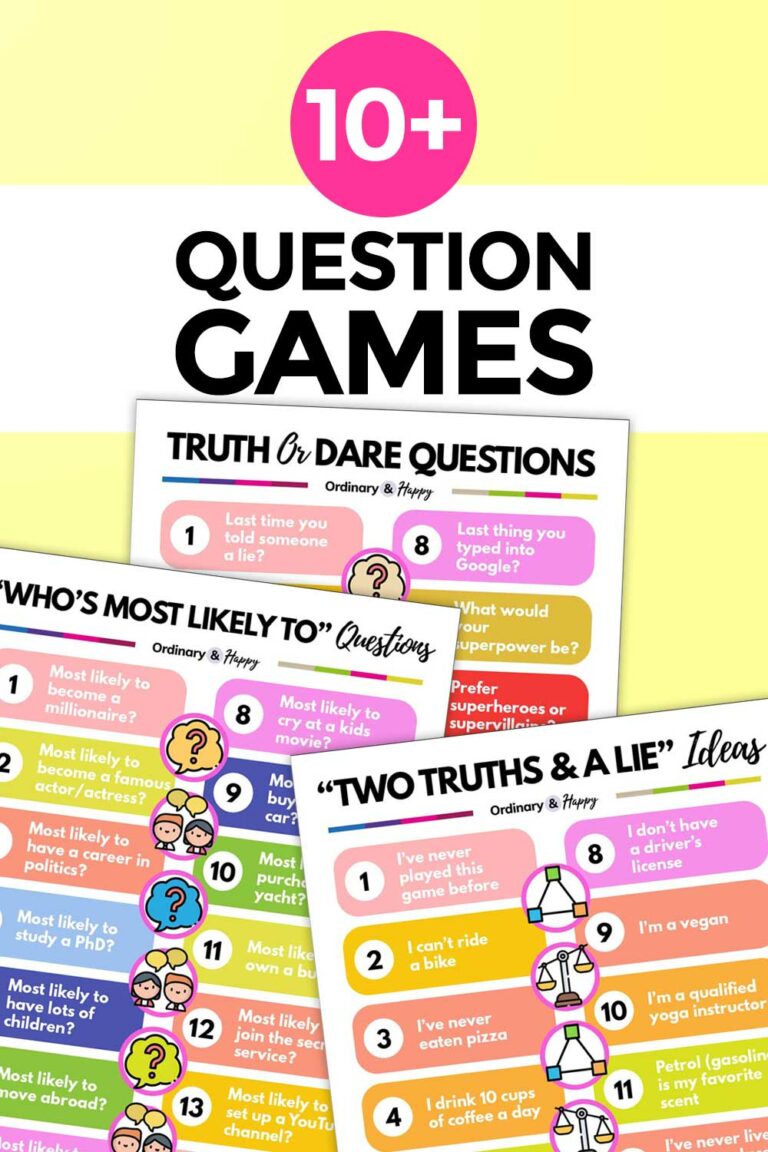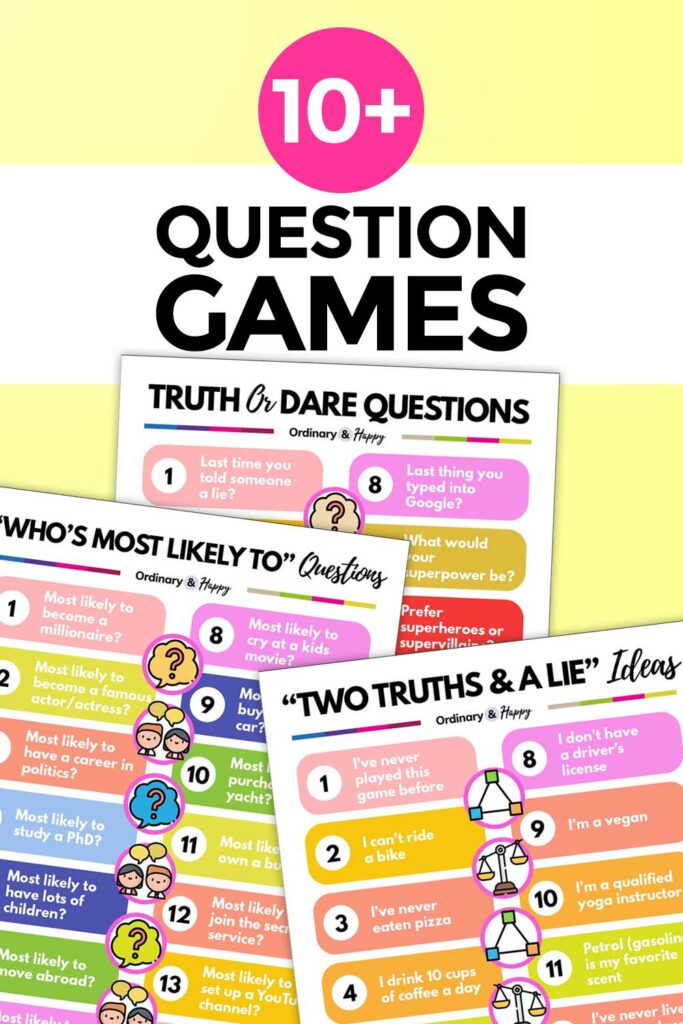 ---
Arguably the go-to party game for teenage slumber parties and nights in with your best friends, you're guaranteed to find out some unheard truths playing this classic.
While renowned for being a little naughty, depending on your audience, you can make 'truth or dare' clean, funny, embarrassing, or even deep and thought-provoking by asking the right questions.
If you need a helping hand, get started with our 100+ Truth or Dare Questions to give you plenty of questions to ask.
'Would you rather' is primed for some rib-tickling evenings with your closest friends as you put each other in some ridiculous situations.
Aside from picking one of two scenarios, the real gold of playing this game is listening to people's reasonings as to why they would pick one option over another.
If you need a little inspiration, we have 100+ Would You Rather Questions ready for you to use in your game.
Renowned for being a very revealing game, 'Never Have I Ever' promises plenty of gasps and shocking revelations when played as a drinking game.
However, you can easily make this simple question game family-friendly with cleaner and funny questions, and substitute in other drinks or forfeits instead of alcohol.
Need some help thinking of questions? Our list of 200+ Never Have I Ever Questions should help you plan a game no one will forget in a hurry, be it naughty and revealing before a night on the town, or fun and embarrassing for a big family gathering.
You can learn so much about someone by playing 'this or that.' Generally, the two choices posed are polar opposites, which really helps enable deeper conversation, especially if someone else would choose the opposite answer.
'This or that' questions can cover pretty much any point of conversation, so you can design a game that suits your audience.
Having a movie night with your best friends? Make them funny! Getting to know a date a little better? Ask 'this or that' questions about relationships and dating.
To help you, our list of 300+ This or That Questions should give you plenty of questions to have in your head ready to ask.
This classic question game is bound to get everyone laughing and debating, and you can really have so much fun with the questions.
If you want to keep things super easy, this is such a great choice. Whoever is playing only has to select another person in the group, and doesn't even need to formulate any type of answer.
This one is straight out of the yearbook, and our big list of 300+ Who is Most Likely To Questions is a great place to start for inspiration.
You're bound to spark some truly intriguing and fascinating conversations with 'what if' questions.
Use our list of 100+ What If Questions to get started, and see what fun, deep, and thought-provoking debates and discussions you can have with your friends, family, or guests.
Whether it's a first date, going with a friend or partner to a social event, or starting a new job, meeting new people can be really overwhelming.
To stop awkward situations and social anxiety from making you freeze, it's a great idea to have some questions in mind you can ask someone you're not well acquainted with.
We have 200+ Icebreaker Questions you can use in a variety of social situations. Have them in your back pocket, and be proactive in starting engaging conversations with people you don't know well.
'Two Truths and a Lie' can be great to play with friends and people who know you a little better, and vice versa, because you can really test how well they know you.
If you're playing with distant relatives or recent acquaintances, there's the opportunity to throw some truly outlandish statements in there, especially if you have a very unique hobby, interest, or life story.
Get a little inspiration from our list of 200+ Two Truths and a Lie Ideas, and plan a fun game everyone will enjoy.
9. 21 Questions
A little celebrity, historical figure, or famous person trivia always goes down well at parties and events, and 21 questions is a super fun way to do this.
You could theme your game of 21 Questions if all of you have a shared interest, or keep it easier for a general audience by picking high-profile celebrities, politicians, movie stars, or sports stars.
10. Yes or No
What better way to keep the action fast, fun, and furious than with a few rounds of 'yes or no'?
For a few ideas, pick from this list of questions to ask your friends, and make sure you have plenty of questions on hand because this is a very fast-paced word game!
If you're spending time with close friends, or people you are comfortable having deeper conversations with, asking these open-ended questions could keep you all engaged and sharing thoughts for hours.
The very nature of these questions is to explore answers beyond a 'black or white' solution. If the mood is right, you can engage in hours of riviting and enjoyable discussion with people close to you.
Have a look at our long list of 200+ Open-Ended Questions and have some ready to ask close friends and family at your next event or gathering.
---
Question games can provide hours of fun and entertainment at your party or social gathering. They're so easy and completely free to play, and you can set an appropriate tone by asking the right questions.
Our question lists will give you plenty of ideas for different scenarios, so you can either write them down or keep them in your head, ready to play when your guests arrive.
You Might Also Like to Read
Looking for fun question games to play at a party or event? Keep this article for safekeeping by saving it to one of your Pinterest boards.