This post may contain affiliate links, meaning if you book or buy something through one of these links, I may earn an affiliate commission at no additional cost to you. Learn more
See in this truly wonderful milestone for a beloved family member or friend with these brilliant 70th birthday ideas, and give the birthday boy or girl a party to remember – after all, age is just a number, right?
70th Birthday Ideas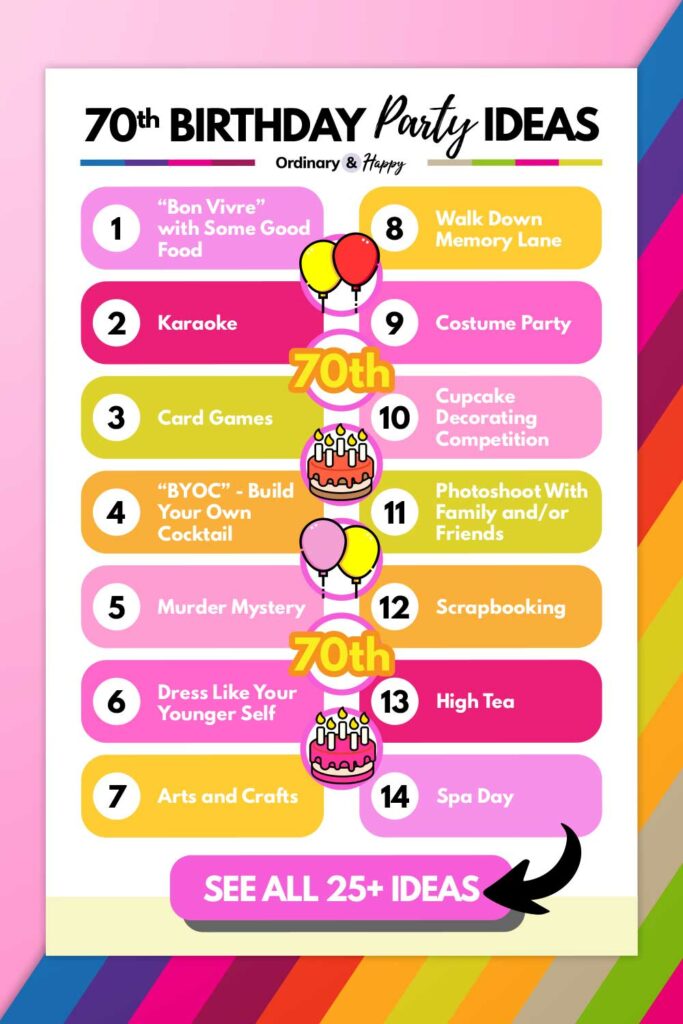 ---
Fun Ideas
1. "Bon Vivre" with Some Good Food
Living and enjoying the good life, that's what "bon vivre" means in French. And what more would someone in their 70s want than appreciating life with some good food?
Order takeout from your favorite restaurant or spend the whole day in the kitchen cooking up something gourmet for everyone to enjoy.
2. Karaoke
Whoever doesn't like belting a good karaoke song should definitely not be trusted. This fun activity is sure to bring the vibe and get everyone hyped up.
Are you going to pull a Miley Cyrus and come in like a wrecking ball or sing like ABBA, romanticizing the young and sweet dancing queen?
The fun thing about card games is it involves minimal effort and is a classic that just about everyone enjoys.
You can buy fancy card games online or in person, or just use a standard deck you probably have somewhere in a junk drawer.
Some examples of standard deck card games are poker, crazy eights, slap jack, or hearts.
Read more: 24 Awesome Card Games for Adults for Hours of Fun with Friends and Family
4. "BYOC" – Build Your Own Cocktail
How fun, right? There are an infinite number of options when it comes to mixing cocktails.
Have everyone make their own by setting up a cocktail bar and see what concoctions everyone comes up with.
Make sure to have enough garnishes – you want the cocktails to look picture-perfect so you can post a picture on Instagram.
5. Murder Mystery
Check Price on Amazon
A murder mystery party isn't just for Halloween, it's also perfect for a 70th birthday.
Sort through evidence and clues together to find out who in your group committed the murder.
Create your own or buy one online. Just make sure to sleep with one eye open at night after you find out who did it…
---
Creative Ideas
6. Dress Like Your Younger Self
Reminisce about the good old days. Have everyone dig in their closets to find clothes from when they were younger.
Play a football game while wearing old football jerseys, tease hair with each other till you look like Farrah Fawcett, or even tie-dye shirts like they did back in the 1960s. Feel and act young again, you deserve it!
7. Arts and Crafts
Arts and crafts as an activity is as creative as it gets. Some might say this is not an activity for elders, but those who say that don't know how to have fun!
Channel your inner child and create some paper flowers, knit a nice scarf, or draw something pretty in an adult coloring book.
8. Walk Down Memory Lane
Take a trip down memory lane with friends and family, smiling at accomplishments, or even crying over hardships you have gone through together.
You can invite people over by making a newspaper invitation, in which you highlight important events that happened in your life. Like, for example, the day you were born and what things were popular in that year.
9. Costume Party
You can never go wrong with a good costume party with good music and food.
Choose a theme for people to dress up as, like a Great Gatsby theme, for example, or really let their creative juices flow and let them pick whatever they please.
10. Cupcake Decorating Competition
Competitions truly bring out the creativity in people. Will you win by decorating the most epic and delicious birthday cupcake? Are you sure that the blue and purple frosting goes well together?
Have the birthday person judge and give out a prize to whoever holds the best-decorated cupcake.
---
Ideas for Mom's 70th
11. Photoshoot With Family and/or Friends
Call up your favorite photographer in town, and get everyone together for a fun photoshoot.
You can start the day out by helping each other get all dolled up. Choose a theme to make the photos even more lively and be entertained by looking at the photos together when they are ready.
12. Scrapbooking
While taking photos is a good way to capture special moments, scrapbooking makes those moments concrete.
Gather all the craft supplies you have and dump them on a table. Make a scrapbook for mom, and enjoy doing that together so you can enjoy recollecting memories.
13. High Tea
A great way for mom to feel like English royalty.
A high tea is a light meal usually eaten in the late afternoon or early evening, and as the name suggests, this activity consists of tea with cooked foods and cakes placed on a high tea stand. Bon appetit!
Read more: 48 Fun Tea Party Ideas for Adults (Activities, Games, and More)
14. Spa Day
What mom (or person in general) doesn't love getting pampered? Create your own at home by putting on some meditation music and offering facials, massages, manicures, or even pedicures.
Read more: Create the Perfect DIY Spa Day at Home in Just 10 Steps
Or get completely zen and go to the nearest spa with some close friends/family.
15. Wine and Shine
It's wine and shine time, baby. Have your friends and family come dressed in glitter and/or shiny outfits.
Pour them a delicious glass of wine and enjoy countless hours of chatting, laughing, and, most importantly, shining together.
You can even pull out some games or karaoke, or cook together while wining and shining.
---
Ideas for Dad's 70th
16. "Aged to Perfection"
Almost everything in life gets better with age, and this also certainly applies to dad.
The older, the better, so grab that whiskey that's been sitting on your shelf for years and savor it together with friends and family.
Pro tip: you can monogram your own whiskey stones for the perfect birthday gift.
17. Sports-Themed Party
No doubt, you will score throwing a sports-themed party, because what dad doesn't love watching the game?
Throw a party at home with a delicious snack bar in the corner, or meet at the nearest bar to watch the game.
Either way, you'll be able to sit back, drink a beer and relax with your favorite people.
18. Beer and Deer
Speaking of beer, why not gather friends and family together for a hunting-themed party?
During the day, go hunting, and, afterward, hang out at home, gossiping about who caught the biggest deer.
Just make sure not to drink too much while hunting… the end result wouldn't be pretty.
19. Camping
Calling all nature lovers! Go out and enjoy the fresh air and remarkable mountains by going camping.
Choose a beautiful destination and sit around the fire with friends and/or family. Here you can share campfire stories while drinking delicious hot chocolate (or alcohol).
Related: 40 Camping Activities and Games for a Super Fun Weekend
20. Build Your Own Pizza Party
Pepperoni, mushrooms, and cheese galore. You get to pick which toppings you want on your pizza.
A fun and creative activity, building your own pizza is perfect for all ages. Watching the pizza while in the oven is sure to make your mouth water, so make sure to have some patience.
---
Surprise Parties
21. Literal Blind Date
The best way to surprise someone is by bringing them on a literal blind date.
Blindfold them and don't tell them where they are going or what they will be doing. Take the blindfold off and watch them light up as you reveal what you have planned, like, for example, a special dinner or a luxury picnic.
22. Scavenger Hunt – Vacation Getaway
Choose the scavenger hunt location, create and hide a list of objects to find or things to do, and hide a final surprise for whoever finds all items or completes all the tasks.
You can use a scavenger hunt to reveal a surprise vacation getaway. Cancun, Paris, or even Australia, here you come!
23. Video Messages from Loved Ones
A video compilation with surprise messages from loved ones is timeless.
Have everyone send in a video congratulating whoever's birthday it is. Then get everyone together and present the video while enjoying some drinks and snacks.
When the video is done, have everyone vote on whoever had the most creative video.
24. Surprise Them with Something on Their Bucket List
What better way to surprise someone turning 70 than doing something that has been on their bucket list for some years now.
Whether it's skydiving or swimming with dolphins, there are many activities someone might want to do before they die. So, what are you waiting for!?
Related: 5 Bucket List Printable Templates (Free and Premium)
---
More 70th Birthday Ideas
25. Go to a Concert
Thankfully there are an endless number of concerts being played daily around the world. So, make sure to buy that pair of tickets and celebrate someone's birthday by being able to sing and dance to their favorite artist.
26. Wine or Beer Tasting
A great birthday celebration – most of the time – involves a nice big glass of wine or beer.
Go to your local brewery or vineyard (if you have one close), and set up a wine or beer tasting that you can enjoy with friends and/or family.
You can even set one up at your own home, by buying different kinds of beer and wine. If you choose to do it at home, have one person designated who talks about each drink in detail.
27. Trivia Night
Trivia is one game that either brings people together or tears them apart. Hopefully, in this case, it brings most closer together.
Put together your own creative trivia PowerPoint with funny and interesting questions about your friends/family.
Host a trivia night party with hors d'oeuvres and drinks. And don't forget to make sure there's a prize at the end for whichever team wins.
---
Whether the birthday boy or girl wants something with plenty of class or is happy to let their inner younger self come to the foray with some fun and birthday-themed games, turning 70 doesn't just have to be another number.
These fun and creative birthday ideas should give you plenty of inspiration to plan a celebration that is on point, and everyone loves.
You Might Also Like to Read
---
Is someone you love or a close friend of the family turning 70 soon? Keep these birthday ideas for safekeeping by saving this article to one of your party planning boards.