This post may contain affiliate links, meaning if you book or buy something through one of these links, I may earn an affiliate commission at no additional cost to you. Learn more
Bring bucket loads of joy, laughs, and meaningful connection to your virtual calls with these awesome things to do on FaceTime, and never worry about long, awkward silences on calls again!
Things to do on FaceTime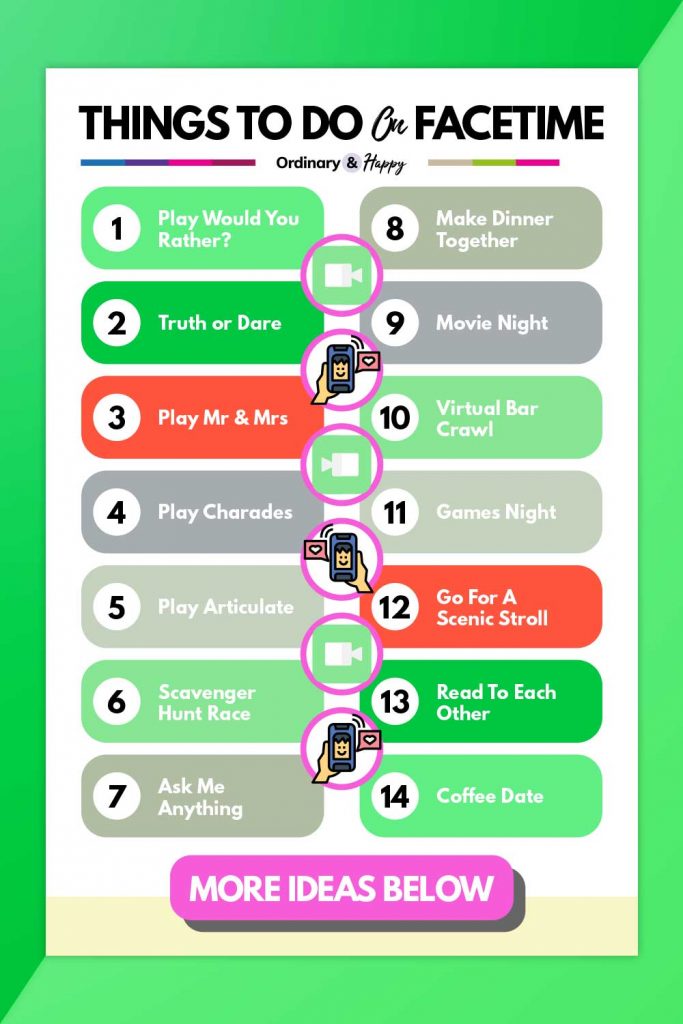 ---
Fun Games to Play on FaceTime
1. Would You Rather?
This cheeky game pits two highly undesirable (or sometimes extremely desirable) situations against one another and asks which you'd rather do and why, providing hours of entertainment.
Engage your imagination and ask your friends some 'Would You Rather?' questions about unlikely scenarios, and watch them struggle to choose between the two!
Read more: 100+ Best "Would you Rather?" Questions
2. Truth or Dare
Truth or Dare is a classic game we've all played at one point or another. You pick to either submit yourself to a dare or agree to answer your friend's nosey questions with the truth, the whole truth, and nothing but the truth.
Playing Truth or Dare on FaceTime can wield results just as hilarious as in real life.
Read more: 100+ Best Truth or Dare Questions
3. Mr & Mrs
Mr & Mrs can be played not just with your significant other, but with close friends too.
This revealing party game tests how well you and your partner, or best friend, know one another, by asking personality-based questions and seeing if both answers match up.
4. Charades
Charades is a party classic! This popular game requires you to act out movies, songs, TV shows, books, and more, while your loved ones guess which piece of pop culture you're miming.
5. Articulate
Articulate is another popular party game that promises hours of fun. Explain an object, place, or person under time pressure.
To add extra difficulty, there are particular words you're not able to use, meaning you have to use your imagination to describe common objects and actions.
This can provide a whole evening of entertainment whilst you and your friends struggle to – as the name of the game suggests – articulate yourselves.
6. Scavenger Hunt Race
A scavenger hunt is a simple but hilarious way to spend an evening on FaceTime.
Somebody acts as a gamemaster and comes up with a list of items, such as 'red item of clothing' or 'something you can eat on toast' and then sets the rest of the group off on the hunt for the items, one item at a time, around their respective homes.
The first person to return with each item wins a point, and the person who finishes the game with the most points is the winner.
---
Fun Things to Do on FaceTime with Your Partner
7. Ask Me Anything
We might think we know everything about our partner, but playing a game of 'Ask Me Anything' over FaceTime may reveal more depths to our sweetheart than we've previously seen.
Agreeing to a game of 'Ask Me Anything' means your partner can ask you any question they desperately want the answer to, and you must respond honestly.
What better way to plummet hidden depths and find out new and interesting facts about your significant other?
8. Make Dinner Together
A candlelit dinner is one of the most romantic date night ideas out there, but just because you can't see your significant other in person, doesn't mean you can't indulge in every couple's favorite evening plan.
Set yourselves up in your kitchens, light a candle, and get cooking. You can prepare a meal together at the same time on FaceTime, then eat facing one another with your favorite songs playing in the background.
9. Movie Night
If you can't go to the cinema, bring the cinema to you. Pick a movie with your partner and start watching it at the same time.
You'll laugh and cry at the same moments, making it feel like your partner is in the room having a movie night with you. Oh, and don't forget the popcorn!
10. Virtual Bar Crawl
A popular choice of evening plan for couples is spending the night hopping from pub to pub or bar to bar, and indulging in their tipples of choice along the way.
Recreate this date night virtually by setting up different rooms of your house as bars, moving from room to room with a new drink in each one. You can even select your own soundtrack to add authenticity to the bar experience.
11. Games Night
There is a multitude of party games that can be played with two players, as well as board games and video games to boot.
Connect with your partner virtually and choose some of your favorite games to play for a head-to-head battle that lasts the whole evening.
12. Go for a Scenic Stroll
Pick your favorite beauty spot, grab your phone and take your partner on a romantic walk with you.
If you live far away from one another, you can give your sweetheart a tour of your local area, or head to the spot with the best view and watch the sunset.
13. Read to Each Other 
Next time you FaceTime, read a chapter of your favorite book for your partner or agree on a book you both want to read and start it together for a virtual book club.
To inject more romance into the call, one of you could read to the other as they fall asleep.
---
Fun Things to Do on FaceTime with Friends
14. Coffee Date
When you can't meet your friend in person for your hot beverage of choice, make a coffee at home or grab a takeaway cup and meet your friend over FaceTime for a coffee and a catch-up.
For an extra treat, bring along a slice of cake, or bring along sandwiches to transform the event into afternoon tea.
15. Virtual Disco
Can't make it to the nightclub in real life? Bring the disco to your front room with a virtual disco night.
Get your friends together on FaceTime and set up your respective rooms as discos, complete with bright lighting and party tunes.
Once you've set up, you can throw your best shapes on camera. To make the evening even more entertaining, you could split into two teams and compete in a dance-off!
16. Quiz Night
A quiz night is a classic FaceTime activity to keep you and your best pals occupied.
Whether it's a traditional pub quiz or a quiz about a particular TV show or topic you and your friends all enjoy, a quiz night is a great way to test your knowledge.
Split into teams or answer questions individually. Either way, you're in for a fabulous time.
For an extra competitive element, let the quiz master give bonus points for the best team name!
17. Virtual Yoga Class
Yoga is a great activity for improving mind-body connection as well as strength and flexibility.
To increase your motivation, attend a virtual yoga class alongside your friends, or even organize your own.
18. Most Likely To
'Most Likely To' is a game in which you take turns in asking the question 'who is most likely to' in relation to a range of wild scenarios.
An example could be, 'Who is most likely to become Prime Minister?' prompting a hilarious discussion and an insight into what your friends really think.
Read more: 300+ Best "Who is Most Likely to" Questions
19. Book Club
For the bookworms among us, starting a book club with friends is a great way to enjoy regular FaceTime catch-ups, as well as discuss a topic about which you're passionate.
A different member of the group can pick the book each time to ensure all tastes and genres are covered.
20. Music Jam Session
Are you and your friends the next Beatles? If you're musically or vocally gifted, or just enjoy playing around with guitar chords, get your favorite pals together for a virtual music jam session.
You can sing along to famous songs or write your own, both make for an entertaining evening and a chance to let your artistic side loose.
---
Fun Things to Do on FaceTime with Your Best Friend
21. Guided Meditation
Best friends are people who support your mental health well-being, especially in stressful times.
If you're both in need of some relaxation, doing a guided meditation together over FaceTime is the ideal way to escape the stresses of a busy day.
22. Look Through Photos Together
If you're unable to see your BFF in person, you're likely missing them. To indulge in a little nostalgia together, why not share your screen and go through pictures of your most precious memories?
From your first day at school together to fancy dress parties at university, you're sure to find something to laugh about in the memory bank.
23. Attend a Concert
Many artists nowadays live stream their performances or create virtual-only performances for platforms such as YouTube.
Pretend you're attending one of their concerts with your bestie, by both jumping on a FaceTime call while the concert is on so that you can dance and sing along together to your heart's content.
24. TV Watch-a-Long
Maybe there's a particular episode of your favorite TV show that's beloved by both you and your bestie, or perhaps you've been talking for a while about starting the latest Netflix hit.
Start your chosen episode (or series) on your TV, and watch it with your best friend by your virtual side, while you swap theories and discuss the funniest moments.
---
FaceTime Activities with Kids
25. Dance Class
Kids are renowned for having bundles of energy, so why not channel this energy into dance?
Either watch a YouTube dance tutorial for kids at the same time or invent your own routine. Whichever you decide to do, you're guaranteed hours of hilarity.
26. Pictionary
Pictionary is a family favorite that will test everyone's artistic skills and keep children occupied for hours.
Bring out your inner Monet by drawing pictures of animals, objects, actions, and more. The rest of the group will then guess what you've drawn, and the team which guesses the most will win. Simple!
27. Talent Show
A great way to keep kids entertained as well as empower them to show off their skills is a talent show!
Whether it's performing a song, creating a dance, or telling jokes, organizing a FaceTime-based talent show is an opportunity for all the family to put their best foot forward.
28. Play Simon Says
A fun option when on FaceTime with kids is to play a game of Simon Says. One person in the group assumes the role of, "Simon," and instructs the other players to perform various actions.
These actions can be things such as wiggling your toes or jumping in the air, making sure to say, "Simons says," before each instruction.
29. Story Time
Virtual storytime is a great way to engage kids' imaginations over FaceTime. Choose a book that they love and read it aloud to the camera, ensuring to change your voices for various characters. Add an element of performance to keep things interesting. 
30. Hangman
One of everyone's favorite childhood games, Hangman can be played in the virtual sphere just as well as in real life. All you need is a pen and paper for some simple family fun.
---
Creative and Unique Things to Do on FaceTime
31. Murder Mystery Night
It was your best friend in the dining room with a candlestick! A murder mystery is a unique and exciting way to spend an evening with friends and family.
You can invest in a murder mystery pack or invent your own. Each participant simply needs a script and a character description and you're good to go.
The game will then begin, with all characters reading from the script and eventually revealing who they suspect is the murderer. The only question left to ask is…Whodunnit?
32. Fashion Show
In the famous words of Madonna, 'strike a pose!' Release your inner Cindy Crawford by organizing a virtual fashion show, in which you and your close friends try on different funky looks and model them for one another.
33. Cocktail-Making Class
For a truly unique FaceTime experience – sign you and your dearest up for a cocktail-making class!
Many companies offer the chance to learn all about cocktails and make them live along with the class.
34. Bake-off
Want to get creative and have something delicious tasting to show for it? Organize a bake-off!
Get together with friends and family on FaceTime and test out your baking skills with a baking competition, complete with themes and a variety of baked goods to make.
35. Flower Arranging
Learn a new skill by signing up for a virtual flower arranging class with your best friends, or simply create your bouquets at home and show them off on camera.
---
Whether it's a family catch-up, a date, or a call to a faraway friend, never get stuck for conversation topics and beautiful moments with these creative and fun things to do on FaceTime.
You Might Also Like to Read
---
Make sure your FaceTime calls are fun of fun and laughs, by keeping these things to do on FaceTime for safekeeping on one of your Pinterest boards.