This post may contain affiliate links, meaning if you book or buy something through one of these links, I may earn an affiliate commission at no additional cost to you. Learn more
Mark this iconic milestone in unforgettable fashion with these 60th birthday party ideas.
Whether you're planning a huge surprise party or a low-key intimate gathering, there's something on this list the birthday honoree will love!
60th Birthday Party Ideas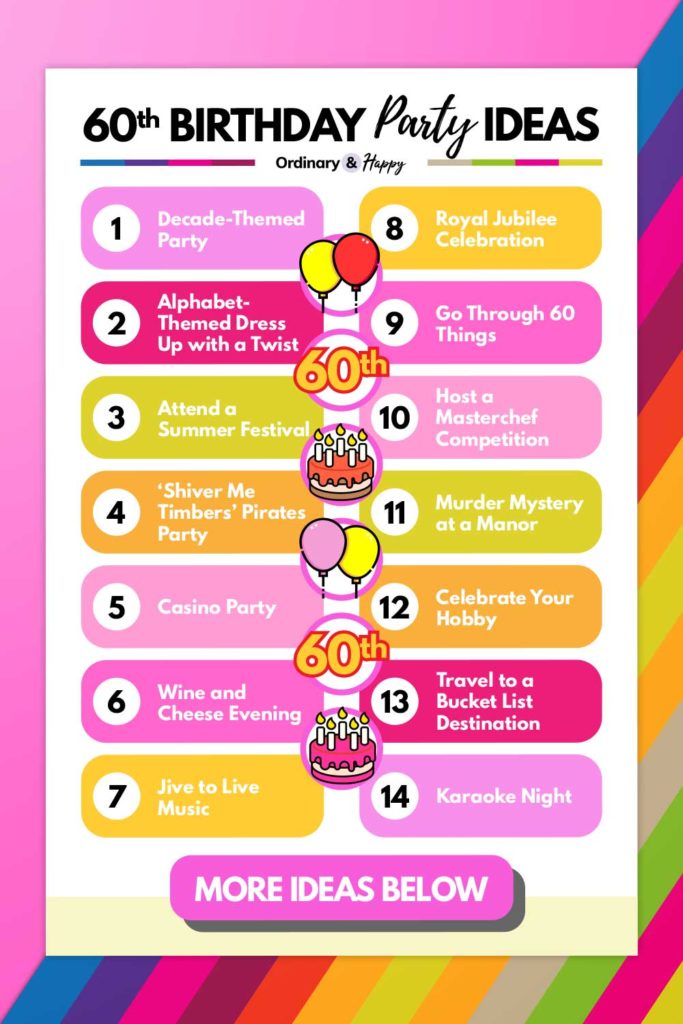 ---
Fun
1. Decade-Themed Party
As a 60-year-old, you or the birthday hero have seen the decades come and go.
You can celebrate this by going back in time. Pick your birthday theme based on the decade the birthday hero was born or when they spent their 'best years' as a teenager.
Use the decade to decorate with party supplies, entertain, and serve food! And don't forget to get all the party guests to dress up in appropriate garments.
Related: Best Party Themes for Adults
2. Alphabet-Themed Dress Up with a Twist
Costume parties are always a lot of fun, so get your guests and family members to dress up according to an alphabet party theme.
Invite guests to wear a costume that starts with the first letter of the birthday boy or girl.
So for Jack or Jill, your guests could turn up dressed as a jewel, a jackal, or James Bond.
You can also use the letter with the rest of the party. Decorate with jade green and serve jam, jalapeños, and Jack Daniel's inspired foods and drinks for a truly unique special event.
3. Attend a Summer Festival
You can likely find lots of great festivals the birthday person and their family and guests would enjoy.
Book a small van or bus, get your friends and family together, and spend the weekend celebrating your birthday.
Organizing a birthday at a festival is a stress-free way to have a good time.
You can relive your youthful festival summers or opt for more quiet literature festivals, for example!
Related: Best Summer Party Ideas and Themes
4. 'Shiver Me Timbers' Pirates Party
Pirate themes are not just for kids – you can host a 60th birthday party with a super fun and hilarious pirate theme.
Have guests dress up as pirates with eye patches and tricornered hats and go big on the party decorations.
Serve seafood and decorate your party venue with skulls and parrots, and you can even host a treasure hunt with golden coins or a guest book where everyone can leave pirate-speak birthday messages.
---
Elegant and Classy
5. Casino Party
Casino-themed birthday parties are super elegant. You can throw the party at a real casino or create a casino at home.
Stick the black and red decor, get someone to host casino games, and serve plenty of bubbly for the guests, family, and close friends.
6. Wine and Cheese Evening
Wine and cheese are a classy combination to theme your birthday around and a great idea if you want to keep things relatively simple.
Purchase different wines and cheeses, get your guests to show up in cocktail attire, and listen to your favorite tunes.
If you don't want to go through the hassle of organizing it alone, you could even book a wine-tasting tour at a local vineyard.
7. Jive to Live Music
Can it get more elegant than having your private band entertain the crowds?
Whether you're into jazz, soul, or rock, having a live band at your party adds a special feel to your night.
You can even opt for a tribute act as a special guest and have everyone dress up for the occasion.
Get ready for plenty of people to bust some moves on the dance floor and a special occasion full of fond memories and spending time with loved ones.
8. Royal Jubilee Celebration
Have a diamond jubilee for your 60th birthday, and wish the birthday guy or girl a happy birthday in style.
Ask your guests to dress up in their best outfits, serve champagne and have a caterer come and cook a fabulous meal for you.
Decorate with flags and fairy lights, and get a crown-themed birthday cake for a proper royal bash.
---
Unique
9. Go Through 60 Things
For a fun idea for a 60th birthday, you could ask each guest to come up with different ideas for entertainment or things to do.
These could range from dancing Macarena to reading a poem.
At the party, all the guests and the host should go through all the 60 things to do on the list.
Stick to the 60-theme with your decor as well, such as using 60 pictures of the birthday boy or girl, having big balloons with the number 60, and adding 60 candles to the cake.
10. Host a Masterchef Competition
You could host a fun Masterchef event for your or someone's 60th birthday. Ask guests to show up with a dish of their choice, potluck-style.
The birthday boy or a girl can then taste all the different dishes and pick a winner.
You don't have to worry about cooking or getting catering, and everyone will have a fun time participating in the 'competition'!
11. Set Up a Murder Mystery Game at a Manor
Book an overnight stay at a local manor or country cottage. Host a murder mystery game with your friends, dedicating different roles for each guest.
Have your guests solve the crime while you serve snacks and drinks. You'll have a lot of fun in a Poirot-worthy setting!
12. Celebrate Your Hobby
Does the birthday hero have a favorite hobby? Use it as the theme for the 60th birthday party. You can have guests have a hand at participating in the hobby, be it football or knitting.
Decorate with hobby-themed items, such as big stamps or movie-themed posters – whatever your favorite past-time activity is. You can even include foods that relate closely to the hobby.
13. Travel to a Bucket List Destination
Would you rather avoid hosting a big party? Get your best friends and loved ones together and travel to a destination you've never been to.
Treat yourself to a paradise island or spend a long weekend at a metropole. Traveling is a great way to relax and celebrate your 60th birthday.
---
Simple
14. Karaoke Night
A karaoke night is a simple way to celebrate your 60th birthday. You can borrow equipment and host the party at home or book a venue for a bigger crowd.
Add a few disco balls or candles for decor. Serve simple finger food that's easy to eat while listening to the tunes.
15. Birthday Brunch Party
Pick a tasty brunch spot, say at your favorite restaurant, and invite your friends over.
You can spend the morning together without any stress of decorating or cooking for the crowd.
Enjoy delicious brunch foods and plenty of bubbly while you celebrate.
16. Celebrate with a Show or Musical
Do you or the birthday hero like theatre? Organize a night out with your closest friends and family and go see a play, musical, or theatrical performance.
You should be able to find easy package deals with dinner and a theatre ticket to make the whole experience relatively straightforward.
17. Pick a Color Scheme
Party themes don't need to be difficult and complex. You can use your favorite color as the basis for what you do.
Buy decor in your chosen color, create a playlist of funky songs that mention the color in lyrics, and see if you can find food coloring to use in cakes and cookies!
---
For Him
18. Put Pedal to the Metal
If he's a big fan of motorsports or cars, you could theme the 60th birthday party around this theme. Contact the local karting center and throw your party at the track.
You can drive around with friends and finish the day with a birthday meal at a nearby restaurant.
19. Throw a Beer Party
There's no denying that many men enjoy the malted drink. You could organize a wonderful beer party for that special man for his 60th birthday.
Make custom beer mugs and serve guests different beers and beer-inspired foods. You could even visit a brewery or have all the guests partake in a beer brewing class.
20. Afternoon of Golf
If the gent is big into golf, go play a few rounds on the birthday for a fun way to celebrate.
You can have the closest friends and family turn up and see who has the best form on the big day. Book a table at the golf club to finish off the day.
21. Western-Themed Party
Cowboys were part of many boys' childhoods. You could create a western-themed 60th birthday to revisit this fun fantasy.
Bales of hay, cowboy hats and boots, and good country music will go a long way to set the mood right.
---
For Her
22. Spend a Day at a Spa
What better than to have a proper pamper day for the special lady turning 60?
You can book a spa day for your closest friends at a local beauty salon.
The ladies can enjoy relaxing treatments and finish the day with a lovely dinner in the spa or at a nearby restaurant.
23. Attend a Dance Class
You could also invite your friend group to dance. Book a dancing class of your choice. It can be salsa, tango, or hip-hop, among many other dances.
You can bust some moves on the dance floor and then go enjoy a hearty meal afterward. It might also be fun to go test those dance skills at a bar later on!
24. Afternoon with a Stylist
If the birthday girl loves a little shopping and finding new outfits, you could celebrate the day with a professional stylist.
Book an appointment with a stylist; you can find them at big department stores.
Let the stylist recommend some new outfits and have the guests chip in to buy the new garments.
Take your new looks out on the town afterward for a fun birthday night or weekend.
25. Host a Traditional Tea Party
Create a traditional garden party or indoor afternoon tea session for the 60th birthday bash.
Keep it simple with scones, strawberry cakes, and finger sandwiches. Serve the best teas and reminisce about the golden days.
Read more: Fun Tea Party Ideas for Adults (Activities, Games, and More)
---
Last-Minute
26. Go for a Picnic
If you don't have a lot of time to plan the birthday party, throwing a picnic at a local park is a simple option to consider.
Send a text to your closest friends and family, get some tasty treats from the supermarket, and head down to the park.
You can play lawn games and enjoy the sunny weather.
Read more: Summer Picnic Essentials You Need for the Perfect Picnic & 100+ Picnic Food Ideas You Will Love
27. Host a Movie Night
Have the birthday boy or girl pick their favorite movie and watch it together with friends and family. You don't need to prepare a lot of fancy decors.
Just have some movie snacks, like popcorn and hot dogs, served from cute paper cups and plates. The movie will take care of the main entertainment.
28. Get Grilling
A backyard bash barbecue party is a low-effort way to celebrate your 60th birthday.
Buy the best skewers and burgers, fire up the grill, and put the drinks to chill.
Turn on the radio and play simple lawn games to entertain the guests.
29. Birthday Bowling
Bowling is a fun activity to spend an afternoon with loved ones. If you left organizing the 60th birthday party to the last minute, you could always go bowling.
Few places require booking upfront booking, so you can often simply show up and book in.
If you just want to celebrate with a small group of friends or family, then go and see who gets the best strikes!
---
Virtual or Online
30. Host a Virtual Game Night
We've all grown accustomed to hosting virtual get-togethers by now. You can throw a fun-filled 60th birthday party online with a game night.
Find a great online game to play, such as a pub quiz or a murder mystery game, and remind everyone to bring snacks and drinks. Then, let the games begin!
31. Send Little Treats to Everyone
You could surprise all your online guests with little treats.
You can get food delivered straight to their doors at the time of the 'online festivity' or have a little package sent in advance.
Get everyone to open these gifts together once you go online.
32. Shake It Up with Cocktails
You could have a drink with your loved ones online to celebrate a 60th birthday.
To make the occasion a little more special, why not host an online cocktail class?
Book in with an online course or specialist, set a time, and remember to send the ingredient list to your friends in advance.
Creating the cocktails will be lots of fun and give everyone something fun to do.
33. Share Your Memories
You can walk down memory lane at your online birthday party. Have everyone prepare a memory they'd like to share about them and the birthday boy or girl.
If they have any pictures or other memorabilia to show, even better! Each 'guest' can take turns sharing stories of things they've experienced and done with the person who's turning 60.
---
Turning 60 is truly a momentous occasion in any person's life, and hence should be celebrated in a fun, creative, and enjoyable way that the birthday boy and girl and all their family and friends will remember for years to come.
Use these ideas to inspire the party planning process, and let the good times roll when that memorable day finally rolls around!
You Might Also Like to Read
---
Got a 60th birthday on the horizon to plan? Keep these fun and unique ideas for safekeeping by saving this article to one of your Pinterest boards.