This post may contain affiliate links, meaning if you book or buy something through one of these links, I may earn an affiliate commission at no additional cost to you. Learn more
Officially introduce your friends, family, and neighbors to your new digs in style with these housewarming party ideas, and prepare for an afternoon or evening of fun, games, and memories.
Housewarming Party Ideas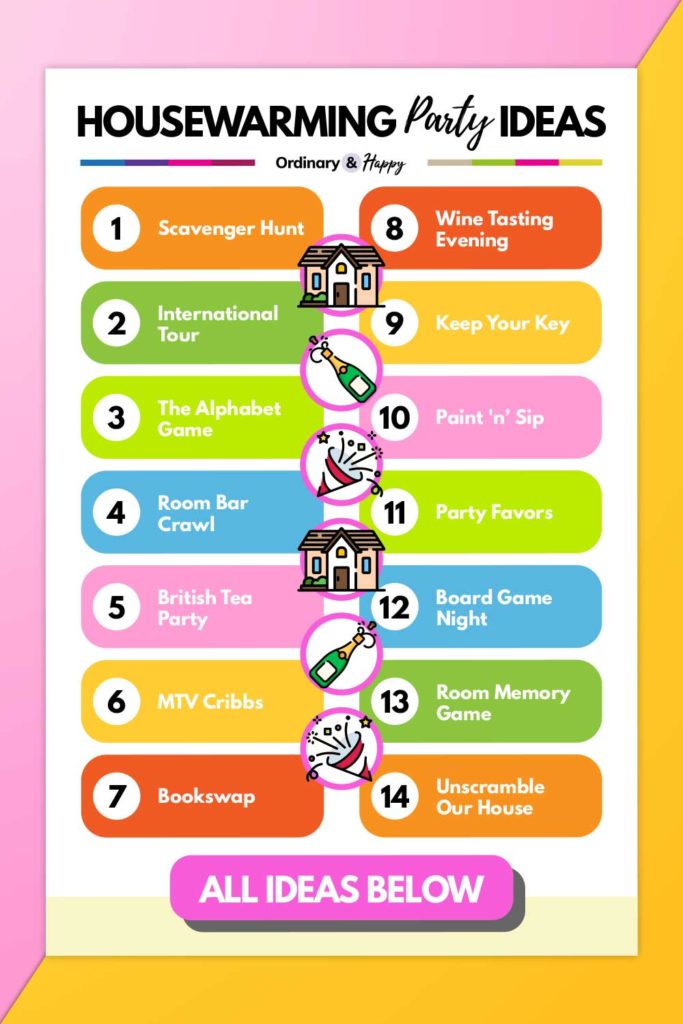 ---
Fun
1. Scavenger Hunt
Want to give guests an exciting house tour but not fond of talking? Why not set up a scavenger hunt? Hide prizes in each and every room accompanied by clues hinting at their location. A great icebreaker that's perfect for family-based housewarming parties.
2. International Tour
The perfect opportunity to broaden your palate! If you live in an area more diverse or if you simply just want to try something new, have guests bring over foods originating from where they are from. Who knows? You might find your new favorite.
3. The Alphabet Game
Things could get interesting. Make a requirement for guests to bring food that only starts with the first letter of their name – creativity never bores!
4. Room Bar Crawl
Assign each of your rooms with a theme, e.g. "Ibiza classics" or "Pirates", and kit it out with alcohol and decorations associated with the theme, such as cocktails or rum. Guests can choose which bar they'd like to visit by entering their chosen room. It's a great way to get drinks and conversations flowing whilst allowing guests a sneak peek into your new home.
Related: Best Home Bar Gadgets and Accessories to Own
5. British Tea Party
Not a fan of alcohol? No problem. How about setting up your very own British tea party with cake, sandwiches, and of course tea? For added fun, you could upgrade it into an Alice in Wonderland theme and make it a mad hatter's tea party, minus the chaos and mess.
Related: Fun Tea Party Ideas for Adults (Activities, Games, and More)
---
Unique
6. MTV Cribbs
A great housewarming party theme for those wanting to relive Y2K nostalgia! Grab a camera and/or smartphone and have guests help you create an MTV Cribbs-style tour video. Not only will you have fun unleashing your inner Kubrick, but you'll also create a memory to look back on for years to come.
7. Bookswap
Are you a self-professed bookworm? Fancy adding something new to your library? For a cute idea for your housewarming, host a book-swapping housewarming party and have guests bring their favorite books.
Assign them into pairs and have them swap novels. Meet up altogether in the near future and have them exchange thoughts. Who knows? It might become a regular occurrence.
8. Wine Tasting Evening
Do you want to try something with a bit of class and sophistication? Then, why not host a wine-tasting evening. Assign each of your rooms with a type of wine and invite guests to try out different types of wine depending on the room they are in.
Related: Best Gifts For Wine Lovers
9. Keep Your Key
At the start of the gathering, hand guests a fake key and explain that a word of your choice is forbidden. If a guest is found using the forbidden phrase they must hand their key over to whoever caught them out. At the end of the housewarming party, the guest with the most keys wins.
10. Paint 'n' Sip
Ready to unleash your inner Van Gogh? Buy a couple of blank canvases, some wine and water paints, and host a "paint 'n' sip" housewarming party. Of course, you can't go wrong with a few homemade decorations for your new property! Paint colors on canvas, enjoy some drinks, and have a great time with family, co-workers, and close friends.
---
Simple
11. Party Favors
Party favors are now often-overlooked when it comes to celebrations, but a little something goes a long way when it comes to impressing your new neighbors. If you want to include party favors but looking to keep things low budget, try looking at Pinterest for some simple party favor ideas.
12. Board Game Night
For entertaining your close friends, family, and new neighbors, sometimes simplicity is key! Open the games cupboard, dust off the boxes, and host a board games tournament. There's nothing like a competitive game of Monopoly to break the ice.
13. Room Memory Game
For this game, guests have to go into an allocated room for two minutes and memorize all the objects on the table. Once the two minutes are up, guests must grab a paper and pen and list everything they can memorize. The person with the most correct answers wins.
14. Unscramble Our House
This housewarming party idea is ideal for any housewarming guests that are fans of the popular TV show Countdown! Very simply, have guests try and make as many words possible from the word 'House'.
Quick hint, there are up to 27 combinations to be made. It's time to pull the dictionary out! For extra fun, you could even host it gameshow style, with team corners and a whiteboard as a scoreboard.
15. Oven Mitt Unwrap
All you'll need for this game is some oven mitts, a pair of dice, and a wrapped prize. Assign your guests with the roles of "unwrapper" and "dice thrower". In the time it takes the dice thrower to throw a matching pair, the unwrapper must unwrap as much of the prize as possible using oven mitts. If the unwrapper fails to do this before the dice thrower throws a match, they must pass it on to the next guest.
---
Outdoors
16. Outdoor Jenga
For a memorable housewarming party that utilizes the garden, put plenty of games on the agenda. Outdoor Jenga is perfect for some joy-filled family fun and is a game all your housewarming party guests can get involved with.
Assemble two teams, and lets the tension intensify and the laughs roll as teams take turns to remove as many blocks as they came without toppling the tower. If you want to really spice things up, write truths or dares on the blocks that your friends and family have to answer or do if they pull that specific block out.
17. Tug of War
As party games go, there are few better than a neighborhood game of tug of war. Relive schooltime nostalgia and have guests compete for who's the strongest. Then, make it fair by splitting the teams into mixed strengths and abilities. The team who manages to bring the rope onto their side wins!
18. Green Thumb
Is your new garden looking a bit bare? Get everyone involved in a little casual gardening and encourage guests to bring tools and plants to help turn your garden into a personal paradise. Who knows? You can also have guests help you with some outdoor errands that you need to complete, such as weeding or planting.
19. Outdoor Cinema
Does your new place come with a summer house? Do you or a neighbor have an outdoor projector handy? Why not host your own outdoor cinema evening. This idea is perfect for summer housewarming parties and to utilize the garden theme. Oh, and remember to have copious amounts of popcorn at the ready!
20. Plant Pot Decorating
Are you tired of having to pay extra for some nicely decorated plant pots? Instead, buy a few plain ones with some paints and have housewarming guests decorate some. Not only will they add a new breath of life to your garden, but they'll also prove sentimental for years to come.
---
Themed
21. Paint a Room
Is your new house in need of a makeover and a bit of TLC? Why not host a housewarming party with a DIY theme, and get your guests in on the act? The more hands, the better! Invite friends, co-workers, and family over to help paint a room of your choice with added extras such as food and drink.
22. Stock the Bar
Is the alcohol cabinet empty? Do you need more options? Have guests bring over their favorite drinks, cocktails, and recipes. If you're lucky, they may even help refill the cabinet. After all, who doesn't love a refreshing cocktail?
23. Block Party
Don't just limit your housewarming party to your own house; extend it to your neighbors. If your neighbors are on board, you can host a much larger party while getting to know your new neighbors in a casual environment. This is an easy theme to try if your new home is lacking in open space.
24. Unpacking Party
Cheeky but productive. Do you still have a couple of boxes lying around from the big move? Why not turn your housewarming party into an unpacking party and have guests help out with unpacking using free food and drinks as an incentive. There's no better way for guests to get to know you than by lending a helping hand.
25. Spring/Summer Barbecue
There's only one thing on everyone's mind when the sun's out: barbecue season! So if there's not a cloud in sight, host your barbecue to celebrate your brand new move. For added fun, encourage guests to bring marshmallows, chocolate, and biscuits to make their own smores after dinner.
---
On a Budget
26. Traditional Potluck
Sometimes there's nothing quite like a classic. Host a more traditional housewarming party with a potluck theme. Encourage everyone on your guest list to bring their favorite dishes and food they are willing to share with the rest of the housewarming party. By doing this, you don't have to burn a hole in your pocket buying extra food or drink for your guests.
27. DIY Photobooth
Got some old fancy dress costumes lying around somewhere? A plain sheet and some fairy lights? Why not create your very own DIY photo booth – after all, everyone loves a selfie! Set up your own photo booth and encourage guests to create the funniest photos possible as a keepsake. You could even put out a guest book for everyone to sign and leave messages.
28. Karaoke Sing-Off!
Encourage guests to unleash their inner diver by hosting a housewarming sing-off. Prior to the housewarming party, create a Spotify/YouTube playlist featuring karaoke tracks of your choice. Then, split your guests into teams and have everyone compete for the title of the best singer.
29. Re-gifting Party
Have some old clutter lying around you no longer have any use for? Why not re-gift it? Host a re-gifting evening and encourage guests to gather and bring unwanted items that they can swap with other party-goers. Not only will you be making space for new things, but you'll also be saving the environment from any unwanted waste.
30. Madlibs
On pieces of paper, the host must write a funny story with missing elements. Guests must then fill in the gaps with whatever words they choose in order to create the best story. Each guest's version of the story will then be read aloud, and party-goers must collectively vote on which one is the best.
---
Virtual/Online
31. Famous House Match
This is a great virtual game to play via Zoom or Skype. Create a quiz featuring celebrity houses. To win, players must correctly match the celebrity to the house. The person with the most points wins. Prepare to get plenty of house envy, even though you've just moved to your new place!
32. Presentation Party
This theme has proven to be quite a hit on TikTok! Have your virtual party-goers create a PowerPoint presentation on a subject they are passionate about. For example, the subject could be why someone doesn't agree that pineapple should go on pizza. The person with the most convincing/entertaining presentation wins.
33. Emoji Pictionary
Pictionary but with a modern twist! Formulate common phrases and sentences using just emojis for virtual party-goers to guess. For example, if you put a fire emoji alongside a baby emoji and add another fire emoji, it translates to "burn baby burn". The guest with the most correct answers wins. For added fun, have guests create their own emoji phrases.
34. Virtual Dance Party
Why not have a mini-rave in the comfort of your own living room? Using the widescreen option on zoom and a great Spotify playlist, have your own virtual dance party and watch the magic happen.
35. Zoom Cook-Off!
Unleash your inner Nigella and host your very own Zoom cook-off. For this, virtual party-goers must be given a recipe for all to follow. To make it competitive, have guests follow instructions simultaneously using either a YouTube video or the host themselves. Remember, it's not about the destination; it's about the journey when it comes to cooking. No matter how good the outcome is, it's all about your guests having fun.
---
There's so much excitement and good vibes that come with starting the new chapter of your life in a new house or apartment. Naturally, such an important moment should be marked with a memorable occasion.
These housewarming party ideas should give you plenty of inspiration to plan an event that everyone invited will have a fun and enjoyable time at. Let new friends, acquaintances, and loved ones into your new home in style.
You Might Also Like to Read
---
Just moved into a new home and looking to get inspired for your upcoming housewarming? Keep this article on hand by saving it to one of your Pinterest boards.