This post may contain affiliate links, meaning if you book or buy something through one of these links, I may earn an affiliate commission at no additional cost to you. Learn more
Want to send love and congratulations to the bride and groom on their big day but can't find the words?
These wedding wishes and messages are perfect for sending goodwill and warmth to the newlyweds, be it written in a card, on a gift tag, or via a text or direct message if you can't physically be there.
Wedding Wishes and Messages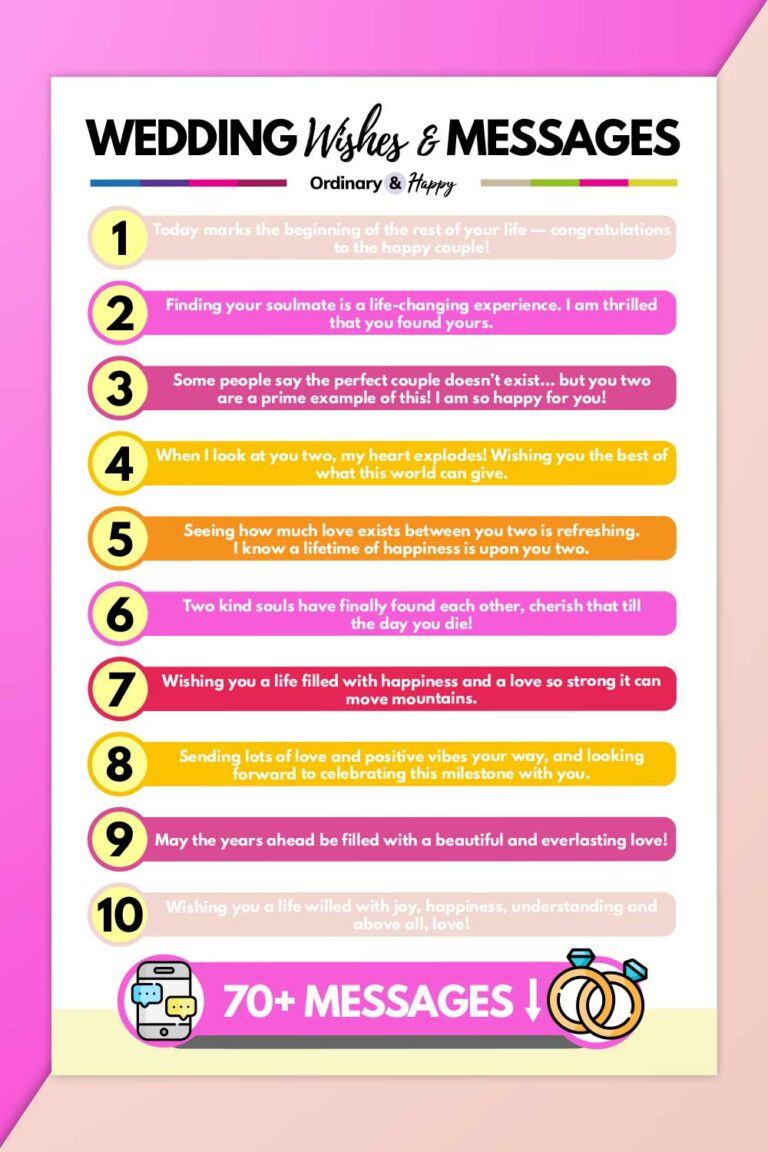 ---
Sweet
1. Today marks the beginning of the rest of your life — congratulations to the happy couple!
2. Finding your soulmate is a life-changing experience. I am thrilled that you found yours.
3. Some people say the perfect couple doesn't exist… but you two are a prime example of this! I am so happy for you and know you will keep the love alive between you two.
4. When I look at you two, my heart explodes! Wishing you the best of what this world can give.
5. Seeing how much love exists between you two is refreshing. I know a lifetime of happiness is upon you two.
6. Two kind souls have finally found each other, cherish that till the day you die!
7. Wishing you a life filled with happiness and a love so strong it can move mountains.
8. Sending lots of love and positive vibes your way, and looking forward to celebrating this milestone with you.
9. May the years ahead be filled with beautiful and everlasting love!
10. Wishing you a life filled with joy, happiness, understanding, and, above all, love!
11. Cheers to a long, happy, and loving marriage!
12. Love is the greatest blessing one can have.
13. Finding each other is exactly what you two needed. We know you will bring out the best in each other and lift each other up when you are down.
---
For a Family Member
14. Trust us when we say that there is no prouder family out there than us, congrats on your wedding.
15. We are so happy you finally found your forever person. Congrats, honey.
16. Congrats, sweetheart! Through the good and bad times of marriage, we are there for you no matter what. Love you!
17. We knew you would find your true love someday, and what a good one you found.
18. Cherish every day you have with the one you love because you never know when it will be your last together. We are so proud of you, love.
19. Beginning your life together with someone may seem scary, but we know you two will create something beautiful!
20. To say emotions are running high is an understatement. I/we cannot express how happy we are for you as you start your life together!
21. He/she is a great addition to the family, and we cannot wait to see what the future holds. Enjoy this special day!
22. We couldn't be happier than calling you both family. Here's to a long and happy future together.
23. Thankful to call you my sister/brother. Your happiness truly makes me happy. Congratulations, I love you so much!
24. All I ever wanted was to see my sister/brother happy, and I truly believe with him/her, you are. I love you so much and wish you both all the happiness in the world.
25. Words cannot express how proud we are of you two, enjoy this wedding day and cherish the many you two will spend together after.
---
For a Friend
26. I have been able to see you two grow up together, and I am honored to be able to celebrate this beautiful day with you guys. Here's to many more years of love.
27. This truly is the start of something amazing, and we are so excited to see you two grow old together.
28. Thrilled to be able to share this day with two of my best friends. Love you!
29. Today will hold a special place in my heart, I'm so proud of you both. Cheers to our lasting friendship!
30. Marrying your best friend feels like coming home. I know two best friends have found each other, and I am so happy for you guys.
31. May your marriage bring you just as much happiness as our friendship has brought me. And many more, of course!
32. I've never been prouder of my best friend until today. Congrats!
33. Dear friends, a day filled with unending joy, wonderful memories, and many laughs. Can't wait to see you two walk down the aisle.
34. It's been a long time coming, but the day is finally here! We are so excited for the happy couple.
35. It seems like yesterday that we were playing hide and seek in our old neighborhood. Now you're all grown up ready to marry the love of your life. I couldn't be happier, congratulations to you two!
36. Remember when we would make lists of our perfect boyfriend/girlfriend? Well, it looks like you found him/her. Lots of love!
---
For a Coworker
37. Very thankful that I was invited to share this special day with you and your family. Wishing you all the happiness in your marriage!
38. It's been a pleasure to be able to see my co-worker so happy, keep it up!
39. I am so happy to be a part of this special moment. Congrats!
40. Seeing my co-worker happy makes me happy. Enjoy this special day with the love of your life!
41. Hope your dreams have come true on this beautiful day!
42. I am so happy to have gotten to know you at work. Wishing you all the success in your marriage.
43. The adventure has just begun. Wishing you guys a happily ever after — you deserve it!
44. What a wonderful surprise! We always knew you two would eventually tie the knot and are so happy for you two.
45. What a beautiful day, can't wait for Monday so we can gossip about it at work. 😉 Cheers!
46. Here's to happily ever after with the one you love!
---
For the Couple Who Eloped
47. What a wonderful surprise! We always knew you two would eventually tie the knot and are so happy the day has finally come.
48. Let this marriage be the beginning of building your new lives together.
49. Congratulations on tying the knot!
50. Congrats to the smitten couple. Best wishes to you both!
51. Cheers to this awesome adventure the two of you have and will be sharing!
52. Love grows stronger day by day, and we have no doubt your love will too. Congratulations to the beautiful couple.
53. We hope to be able to see some photos of your wedding day! Much happiness to you both.
54. Vegas got to experience a couple completely and utterly in love, congrats to you! (And to Vegas)
55. We may not have been involved in the special day, but we were/are with you every step of the way. Cheers to you two!
56. A little birdy told us that someone got married… congratulations are certainly in order for you two!
---
Funny
57. Save the fighting until tomorrow — today is a day to enjoy and celebrate the happy couple!
58. Our advice on marriage: Love, honor, and massage each other's feet every now and then.
59. How did you trick this one into marrying you? I would sleep with one eye open if I were you…
60. I never thought this would happen, but here we are. I'm happy for you guys though. Should we crack open a beer now?
61. What took you guys so long?!
62. I'm not crying, you are! Okay, maybe we're all crying… congrats to the beautiful and emotional couple.
63. Wishing you lots of love — and makeup sex — in this life.
64. Who could say no to an open bar and free food? Oh, and congrats to you guys on getting married too.
65. You may have signed your life away, but no need to fret. At least you have signed it off to a great person (you hope).
66. I recently went to a fortune teller and asked them about your marriage… lucky for you, she saw a long and happy marriage for you two. Enjoy!
67. Just remember that in marriage, one is always right, and the other is the husband.
---
More Wedding Wishes and Messages
68. Nurture and care for each other as time goes on, and nothing can go wrong. Cheers to many more years filled with love.
69. A very important title has been added to your names today — wishing you a successful and happy marriage.
70. Working together as a team makes a successful marriage. Therefore, I know you two will succeed – wishing you all the best!
71. Continue to grow, both together and separately, as this will bring you both closer together. Time will show that you two were absolutely made for each other.
72. Yay! It's finally official. Congratulations to the newlyweds are in order!
73. What an honor it is to be able to witness two soulmates pledge their love to each other. Here's to beautiful beginnings.
74. Thank you for letting me witness the start of something magnificent. Stay beautiful!
75. Covid may be temporary, but your love will last for eternity.
76. I would like to raise a toast to the beautiful couple! Best wishes to both of you.
77. Finding each other is oh so very special… cherish that forever.
78. Sending you our warmest congratulations and deep love on your beautiful day.
---
No matter what your relationship with the bride or groom is, there's always the perfect way to put your thoughts and congratulations into meaningful words for them.
You can either directly use these wedding wishes and messages, or read them and help them inspire some words of your own, to express how happy you are for the bride-and-groom-to-be on their special day.
You Might Also Like to Read
---
Got a friend or family member's wedding on the horizon? Keep these messages and wishes for safekeeping by pinning this article to one of your Pinterest boards.