This post may contain affiliate links, meaning if you book or buy something through one of these links, I may earn an affiliate commission at no additional cost to you. Learn more
Put the warmth, love, and congratulations to want to send the mother-to-be into words with these baby shower wishes and messages, ready for her to read on her special day.
Baby Shower Wishes and Messages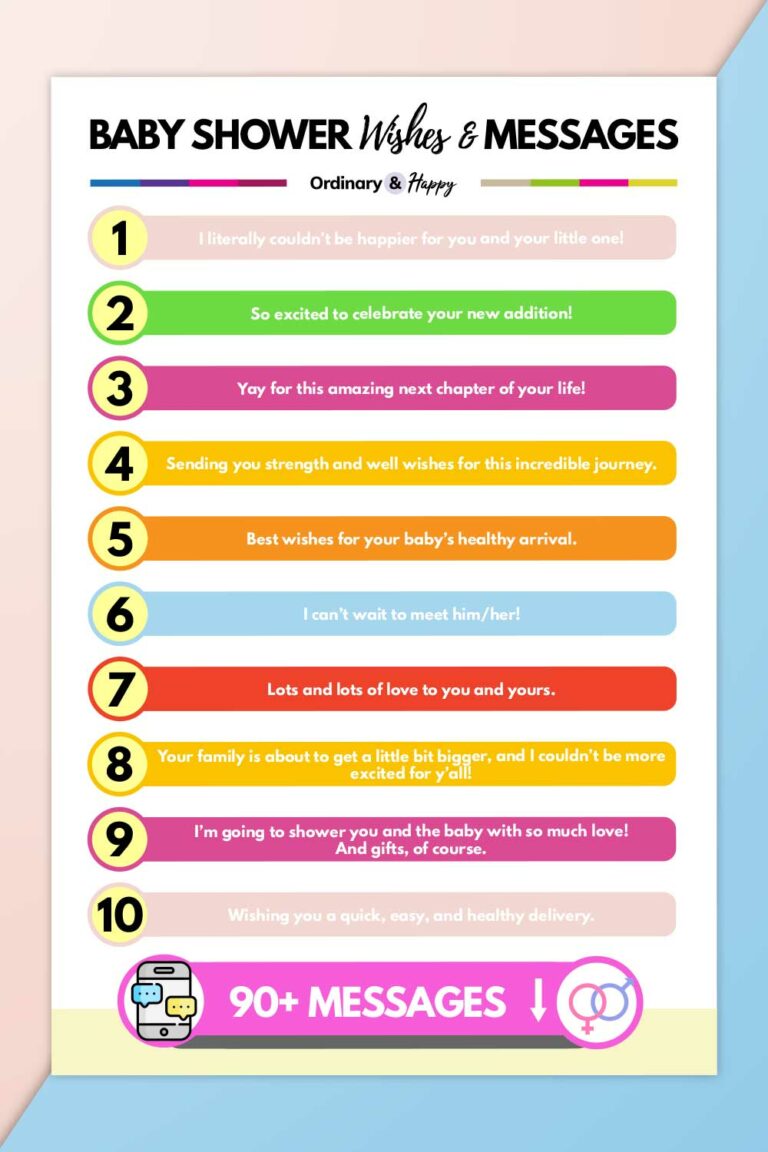 ---
Sweet
1. I literally couldn't be happier for you and your little one!
2. So excited to celebrate your new addition!
3. Yay for this amazing next chapter of your life!
4. Sending you strength and well wishes for this incredible journey.
5. Best wishes for your baby's healthy arrival.
6. I can't wait to meet him/her!
7. Lots and lots of love to you and yours.
8. Your family is about to get a little bit bigger, and I couldn't be more excited for y'all!
9. I'm going to shower you and the baby with so much love! And gifts, of course.
10. Wishing you a quick, easy, and healthy delivery.
11. Here if you need any support throughout this journey, and don't forget how overjoyed I am for you.
12. You and the baby will be in my thoughts daily! I'm here if you need anything, no matter how big or small it may seem.
13. Nothing but best wishes for you and your baby's healthy arrival.
14. If your baby is even half as stunning as you are, get ready to have a child model in your midst!
15. What a happy new phase of your life, I am so thrilled for you.
16. Just thinking about how lucky your baby is to have you as their parent(s).
17. Sending all my good vibes and well wishes to you and your baby.
18. Cherish every moment of this experience — you and the baby are so, so blessed.
19. Hugs and kisses to you and your baby on the way!
---
For a Friend
20. So proud of you for coming this far! I've been by your side through thick and thin, and I won't leave now. The baby is so lucky to have you!
21. Just thinking about how cute your baby is going to be! The world isn't ready.
22. We've been through so much together, and now you're taking this incredible step in your life. I can't wait to see how much joy your baby brings you, and I know you will rise to the challenge gracefully like you always have.
23. My miracle friend is having a miracle baby! I am so, so proud.
24. I finally get to be an aunt/uncle to your soon-to-be baby!
25. Congratulations on this exciting new adventure! I'll be by your side every step of the way.
26. You have no clue how hyped I am to meet your baby and see you as a parent!
27. Cheers to celebrating new life and new experiences for my bestie!
28. Can't believe your family is growing in such a special way. I'm so glad I get to be by your side through all of it, too. Here's to your baby's healthy arrival!
29. I just know that your baby is going to be perfect, inside and out.
30. After everything we've done and seen together, somehow this seems like the best and most memorable step yet. I am so full of joy for you, friend!
31. Can't wait to welcome a mini-you into the world!
32. Good luck to you, friend. You're going to be amazing at this, just like you have been at everything since I met you.
33. Sending love to you and your precious baby.
34. So excited to shower you and the baby with gifts! Finally, my spending problem will come in handy for you.
35. Nothing makes me happier than getting to see you become a mom. You've always been the best of friends, and I know you'll be the best of parents. Congratulations!
31. I'll be praying for a happy and healthy delivery, every step of the way.
32. Best news ever! Looking forward to meeting your little you!
33. Congratulations on becoming a mom! I always knew you could do it.
34. Warm wishes for you and baby ⁠— stay happy, healthy, and strong.
---
For a Family Member
35. So crazy how time flies! At least we aren't the ones in diapers anymore!
36. Here's to the newest addition to our family! I can't wait to meet him/her! I call dibs on being the first visitor.
37. You and ___ are going to be the best parents ever! Or at least, in the top three. Can't disrespect the family name.
38. I'm still in shock that you are going to be a mom! You are going to do amazing.
39. You've grown so much, and I just know you're going to be the perfect mom for your little one.
40. Nothing is more exciting than a baby, and especially when I'm related to it. Congratulations!
41. Family dinners are about to get a lot more exciting! And a lot louder.
42. Couldn't be happier to help welcome your tiny tot into our family.
43. If you need anything, we're here for you ⁠— but knowing you, you've got this!
44. So lucky to be here to see this day and this exciting new step for you.
45. Get ready to be the pride and joy of the family once again! This is the best news we've gotten all year, and we are all thrilled for you!
46. Huge congratulations, and sending you all my love. The whole family are teeming with excitement!
47. You've always been the kindest person with the purest heart, and I just know you're going to pass that on to your baby. Congratulations, you!
48. I just can't wait to see what he/she looks like! Hoping there's some strong family resemblance.
49. Congratulations, I am so happy for you and proud of you. Throughout the years, you have grown so much and turned into the strong and confident woman that you are today. I just know that you are going to be the perfect mother, and your baby is blessed to have you in his/her life. And you're not in this alone ⁠— the whole family has your back, and always will.
50. Call me if you need anything at all, and I'll be there in a millisecond. This is the greatest news ever!
51. Hooray for another precious baby in the family!
52. Thrilled for you and looking forward to meeting your perfect little one.
---
For a Coworker
53. Congratulations on this happy new blessing!
54. We are all over the moon for you!
55. Rest assured that we're all just waiting to see pictures of your baby ⁠— you're the talk of the whole crew!
56. Best wishes for your health and happiness throughout this incredible journey.
57. Now you'll be working even when you're off the clock! Congratulations.
58. We're all here for you if you need anything at all!
59. Super happy for you and yours!
60. Congratulations on the big news!
61. Wishing you and your growing family all the best.
62. This is so exciting! I'm still jealous about that maternity/paternity leave, though.
63. I hope everything is quick and easy and you get to enjoy getting to know your baby.
64. You'll be in my thoughts! Congratulations on your baby!
65. We are all thrilled for you and can't wait to see your baby once he/she arrives!
66. Sending you and the baby good vibes and positive energy.
67. Wow, what a big step. You've got this! The whole team is here if y'all need anything.
68. Such exciting news. Congratulations on this next step!
69. Your baby is sure to be lucky to have you, huge congratulations.
70. Hope everything goes smoothly for your baby's arrival!
---
Funny
71. If you ever need a babysitter… you most likely shouldn't call me. Congratulations, though!
72. They say that having a baby is the most important moment of your life, but I think they might be forgetting about how important meeting me was, too.
73. Get ready to have the most stylish baby. How are baby clothes so cute!?
74. I hope you're prepared to lose a lot of sleep over your little one!
75. I would buy you a drink to celebrate, but I heard that your baby hasn't quite reached the drinking age, yet. Either way, huge congratulations to you!
76. So I guess baby fever has finally hit you!
77. Don't worry, I brought all the gifts and goodies you and the baby are going to need.
78. I heard you were thinking of naming the baby after me? You definitely have my blessing for that!
79. If you need any help baby-proofing the house, just know that I'm probably not your person. But I could always try!
80. Finally!! I've been needing a cute baby in my life to bring up when conversation gets dry.
81. Make sure that baby knows which gifts are mine, okay?
82. I'm just happy we finally get to end our bets on who is going to have a baby first.
83. This is the most exciting news since I announced my 21st birthday bash.
84. Has anyone told you good luck yet?
85. Just make sure not to let the baby be influenced by you at all, and I'm sure he/she will be perfectly well-behaved!
86. Babies make everything better! They also keep you from getting any sleep, at all. You should probably start catching up now and wrack up those extra hours.
87. Don't worry, if it doesn't work out, you can always just return it!
88. Prepare for the scariest eighteen years of your life. You've got this.
89. Look, babies aren't for everyone ⁠— that's why I'm going to be your baby's "cool aunt" and call it good. Can't wait to meet my niece/nephew!
90. So I heard you're looking into choosing a godparent for your baby? I'm here to present my application titled "the many years of friendship shared between us."
---
It can be really difficult to put your good will and warmth into words for the expecting mother, no matter how close you both are.
Hopefully my list, which covers everything from funny messages to heartfelt wishes, will help you find just the right words to put a huge smile on her face when she reads them.
You Might Also Like to Read
---
Keep these baby shower wishes and messages for safekeeping by saving this article to one of your Pinterest boards.