This post may contain affiliate links, meaning if you book or buy something through one of these links, I may earn an affiliate commission at no additional cost to you. Learn more
Give the mom-to-be and her family and friends a day to remember with these awesome baby shower venues to host a memorable baby shower everyone will love and enjoy.
Baby Shower Venue Ideas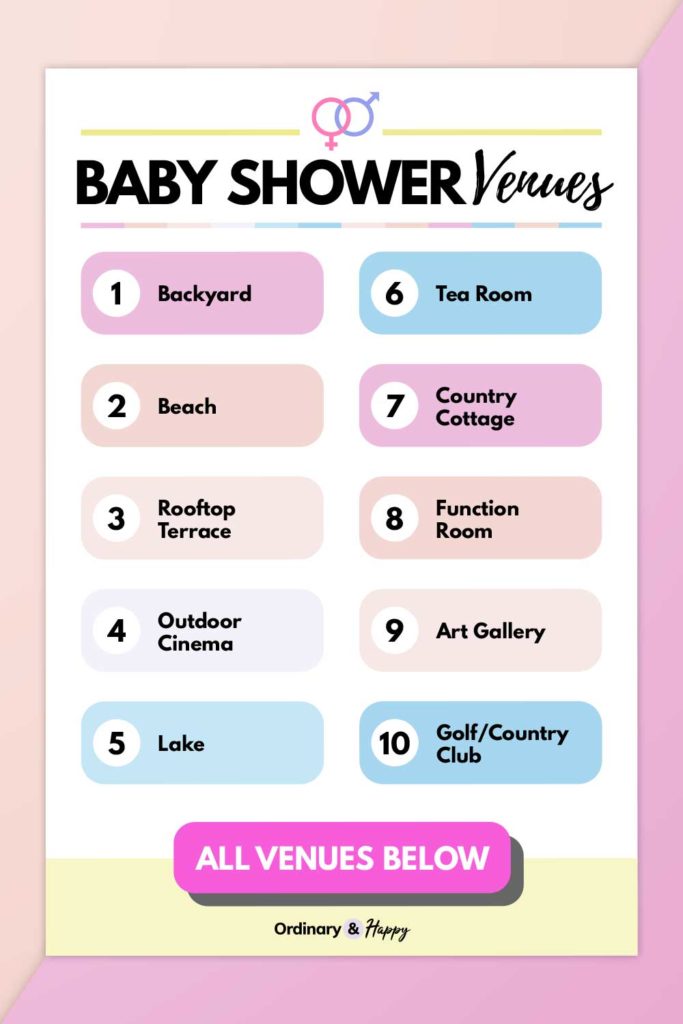 ---
Outdoors
1. Backyard
Whether it's for a BBQ or just to enjoy some coffee in the sunshine, your backyard is a great baby shower venue. Hang decorations from your fence, blow up colorful balloons, and offer food and refreshments to guests for an afternoon filled with celebration.
The best part? This venue will cost you next to nothing! All you need to consider in your budget is food and decorations.
2. Beach
Who doesn't love a day out at the beach? For a baby shower with a twist, assemble your gal pals and the mother-to-be for a day surrounded by sea, sand, and sunshine.
Pack a picnic and set up a designated celebration area with blankets, tables, and chairs for an unforgettable outdoor baby shower. Bonus points if you go later in the day and watch the sunset over the ocean.
Related: 100+ Things to Do at the Beach (Bucket List)
3. Rooftop Terrace
Many restaurants, hotels, and bars offer a rooftop terrace that you can rent for special events. And what event could be more special than your best friend's baby shower?
Enjoy stunning views over your local city from the comfort of a rooftop bar, complete with upbeat music and mocktails. Plus, the beautiful views will provide the perfect backdrop to those all-important group pictures.
4. Outdoor Cinema
Spending time outside with friends? Check. Enjoying food and drink while watching the sunset? Check. Seeing a new critically acclaimed movie on the big screen? Check. Enjoy all this and more by hosting your best pal's baby shower at an outdoor cinema.
If they're a lover of the big screen, they'll love spending their baby shower surrounded by their nearest and dearest while catching one of the year's biggest movies.
5. Lake
If you're lucky enough to live near a picturesque body of water like a lake or river, pack a picnic and head there for a baby shower in the sunshine you'll never forget.
For extended baby shower celebrations, head to a lakeside cottage for a whole weekend to enjoy a rural retreat and give the mum-to-be the relaxation she needs.
---
Indoors
6. Tea Room
Celebrate your friend's baby shower like the Queen would by indulging in a spot of afternoon tea at a local tea room. Enjoy finger sandwiches, delicious cakes, and, of course, lots of tea while you celebrate your loved one's upcoming motherhood.
For an intimate, cozy baby shower, look no further than this unique venue and inclusive alcohol-free activity.
Read more: Best Tea Party Ideas
7. Country Cottage
To extend the baby shower celebrations past just one afternoon, hire a cottage in the countryside for the weekend and invite the guest of honor and some of her closest friends.
There's nothing a mom-to-be needs more than a bit of relaxation, and where better to find it than Mother Nature? Spend the weekend going for walks, picnics, and catching up with loved ones in the heart of the countryside at this beautiful baby shower venue.
8. Function Room
A function room is a room in a public or private building that can be hired out for events. Celebrate the mom-to-be's new addition by hiring out a private space just for her and her loved ones.
For a baby shower to remember, hire caterers that specialize in her favorite dishes and a DJ that can blast out some catchy but family-friendly tunes.
9. Art Gallery
Does the mom-to-be know her Picasso from her Dali? If so, opt for a baby shower at an art gallery! It might sound quirky, but many art galleries offer an event space that you can hire for an afternoon or evening.
If you're on a budget, consider spending the afternoon checking out works of art before finishing the celebrations in the gallery's cafe.
10. Golf/Country Club
Many golf or country clubs boast an event space that can be rented for celebrations such as birthdays, weddings, and baby showers.
If the mother-to-be likes a little luxury, this could be the perfect venue for them. To make things easier, most golf clubs offer an onsite restaurant, so food and drink will be easy to organize.
---
Fun
11. Restaurant
Book a table at her favorite restaurant for a fun, food-filled way to celebrate your best friend's upcoming motherhood!
Not only will she get to spend the day surrounded by loved ones, opening gifts and making memories, but she'll also get to enjoy dishes from her favorite menu.
12. Hotel
Hotels often have a bar area or event room that can be rented for private use – perfect for a baby shower. Plus, hotels offer versatility.
Aside from hiring a room, you can book a table at the onsite restaurant, visit the hotel spa, or even book a room for any guests that want to celebrate into the night. For a baby shower to remember, treat the mom-to-be to a day steeped in luxury at this fancy venue.
13. Craft Studio
For a wholesome, family-friendly activity that doesn't break the bank, look no further than an afternoon filled with arts and crafts at a local studio.
Many studios offer the option for you to rent a space or attend a fun and simple class such as mug-painting – or even life drawing for a baby shower with a cheeky twist!
14. Botanical Garden
If you want to escape your urban area and experience the natural world, consider booking a botanical garden event space for the mom-to-be's baby shower.
Perfect for intimate celebrations and a stunning backdrop for photographs, some botanical gardens even offer an onsite restaurant, so your food and drink needs will be covered.
The best part? The garden's fountains, flowers, and fields will provide the perfect backdrop for photos of the mother-to-be and her loved ones.
15. Castle or Manor House Grounds
If you're throwing a baby shower in the summertime and you have a sizeable budget to work with, bask in the sunshine by celebrating on the grounds of a castle or manor house.
Such venues are commonly rented out for weddings, so should have everything you need to host a baby shower in a beautiful and memorable setting.
---
Unique
16. Vineyard
If you're lucky enough to live near a vineyard, consider choosing it as a venue for a baby shower to remember.
You'll get to tour the beautiful grounds and enjoy some truly stunning scenery. Just make sure they are alcohol-free options available for the mother-to-be.
17. Barn
If you're looking for a rustic venue with tons of charm, it doesn't get much better than a barn. Find a barn in your local area available to hire, then fill it with cozy decorations, including blankets, balloons, and bunting. And voila! You have the perfect baby shower venue for the mom-to-be. For bonus points, organize some casual catering to add to the festival vibe.
18. Spa
If there's one thing any mum-to-be needs during pregnancy, it's rest and relaxation! Guarantee a day of pampering by hosting her baby shower at a spa.
You can sign the guest of honor and the guests up for massages and other treatments, or simply enjoy the pool, jacuzzi, and sauna at your own pace. Either way, you're guaranteed to feel leaving refreshed and rejuvenated.
19. On a Boat
For a truly unique, once-in-a-lifetime baby shower experience, opt for a boat ride. Whether you take a sailing boat out on the sea or simply a barge down the local canal, you'll enjoy scenic views while celebrating your bestie's motherhood journey and showering her in gifts.
20. Theatre
If the mom-to-be is a fan of plays or musical theatre, throw a baby shower like no other by hosting it at the theatre.
Ask the theatre if you can host the gift-giving and the shower in a private or function room. From there, you can then treat the parent-to-be to an evening doing one of their favorite pastimes – watching an acclaimed theatre show.
21. Zoo or Safari Park
Is the mother-to-be in your life an animal lover? If so, give her a baby shower to remember by taking her for a day at the zoo!
You can spend your day getting to know the various animals, before ending up at a cafe or private function room to exchange gifts and celebrate your friend's transition into parenthood.
22. A Unique Airbnb
When most people think of an Airbnb, an apartment or cottage comes to mind. However, you might be surprised to hear that Airbnb is full of unique spaces, including treehouses, shepherd's huts, and even castles!
Live out the mom-to-be's Bridgerton fantasy by renting a castle or somewhere equally as impressive for a weekend of baby shower celebrations. All the guests are guaranteed a unique experience, and the guest of honor will enjoy a one-of-a-kind holiday.
---
Budget-Friendly
23. Community Centre
Many community centers offer a dedicated event space where local residents can host parties and celebrations. Since these venues are typically run by local government or volunteers, community centers are more affordable than private venues like hotels.
By hosting the baby shower in a community center, you'll be able to throw a celebration to remember without breaking the bank.
24. Church Hall
If religion is important to the mom-to-be, host her baby shower at a church hall. Many churches (or other places of worship) have a hall that members of the church can use as an event or meeting space, typically at an affordable price.
All you'll need is a few decorations and refreshments to turn it into the perfect baby shower venue.
25. Cafe
For a laid-back, affordable baby shower venue with an intimate atmosphere, look no further than a local cafe.
Book a table for you and the mom's nearest and dearest and indulge in an afternoon of coffee, cake, and gift-giving.
26. Museum
Many museums offer free or affordable entry, so if the mother-to-be is a history or art buff, look no further than your local museum for a baby shower with a twist. Take a wander around the museum's many artifacts or works of art before heading to the onsite cafe for coffee, cake, and gifts.
If you want to make the day extra special, ask the museum if a knowledgeable staff member can give you a personal tour of the space and provide additional insights.
---
Free
27. At Home
The cheapest baby shower venue? Your own home, of course! Transform your house into the perfect event space with music, lighting, decorations, and a buffet.
It's the easiest venue to set up, and you'll provide an intimate, cozy space for the guest of honor and her nearest and dearest.
28. Virtual
If you're throwing a baby shower for your friend who has loved ones all over the country, consider hosting it virtually. This way, the guests can save on travel costs, and you'll ensure that everybody can attend, no matter how far away they live.
To keep things interesting, turn it into a virtual games night, virtual quiz, or sign the group up for an online mocktail-making class with an expert.
29. The Local Park
For the ultimate outdoor baby shower, throw the mum-to-be a party in the park. This fun yet affordable activity is the perfect way to spend a sunny afternoon celebrating your best friend's journey into motherhood.
Pack a picnic, tasty drinks, and some baby-themed decorations to transform your local park into a coveted baby shower venue.
30. The Mom's Childhood Home
If the mom-to-be has a good relationship with her parents, ask if you can throw the baby shower at their house.
This way, the guest of honor can enjoy her special day in a space that's important to her, and reflect on how her own childhood will help her be a great mother to her future child. Plus, the guests can giggle at photos of her embarrassing childhood haircuts!
---
A baby shower is such an important and memorable event for the mother-to-be, and a huge part of that is the venue in which it is hosted.
If you're planning the baby shower, you'll know what the mother-to-be enjoys and is interested in, and the venue should be a reflection of that. Use our list of venue ideas to get inspired, and start building the foundations of a baby shower the expecting mom and all her family and friends will love.
You Might Also Like to Read:
---
Planning a baby shower for a radiant mum-to-be? Keep this article on hand for inspiration by saving it to one of your Pinterest boards.