This post may contain affiliate links, meaning if you book or buy something through one of these links, I may earn an affiliate commission at no additional cost to you. Learn more
Looking for a new career that is both challenging and creative, while giving you flexibility? Learn how to become a freelance writer in 7 simple steps with our simple and insightful guide!
How to Become a Freelance Writer
Freelance writing is an ideal career path if you want to earn money with flexible hours and control over your workload, doing something you genuinely enjoy.
However, contrary to many social media posts and online courses, freelance writing isn't just a simple case of signing up to a couple of freelance platforms and watching the money roll in.
To be a successful freelance writer, you need to put in time identifying your niche, practicing your writing, building your client base, and marketing yourself.
But above all else, you need patience. Some of the most successful freelance writers online openly talk about how difficult the first 6-12 months is.
So, if you are set on a career in writing, but don't know how or where to begin, use our 7-step guide to get informed, create a plan of action, and set realistic expectations.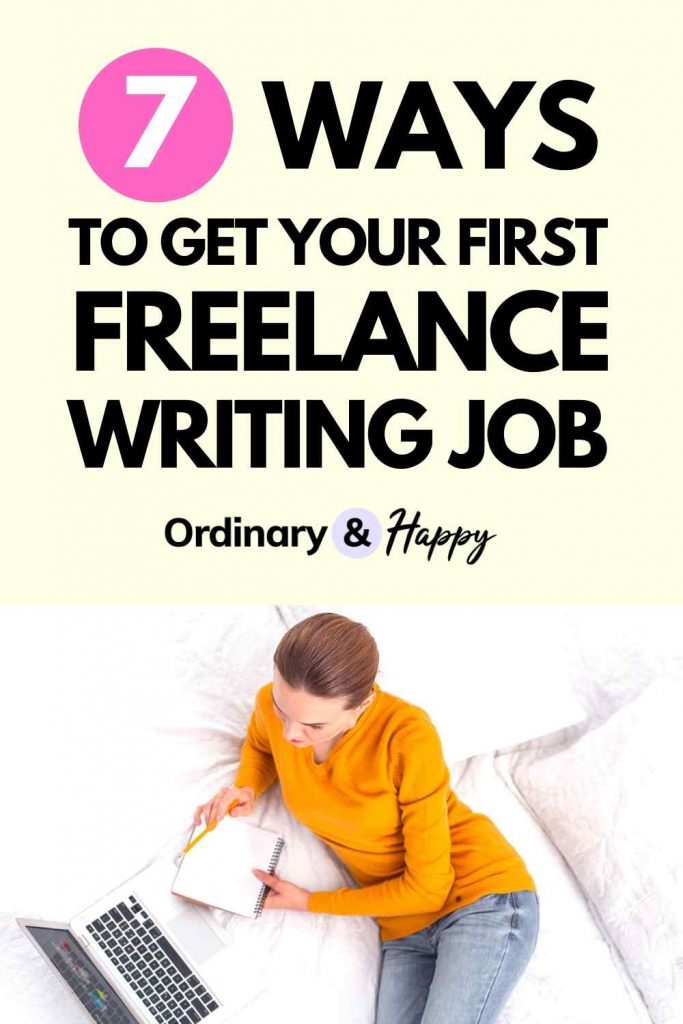 1. Understand The Types of Writing
There are many types of freelance writing. Understanding each type and whether it is suitable for your writing style and interests is vital.
This should be the first thing you figure out before you begin building your profiles and curating your service. Popular freelance writing jobs include:
Study up on the types of writing and pick just one, so you can truly specialize and be very good in the area you picked.
Quick Tip on Finding the Right Type of Writing for You
When you pick the type of writing, think about how you naturally write. If your writing tends to be more logical, research-driven, and dry, then consider B2B writing, technical writing, or similar types of research-driven writing.
If your writing is more engaging, creative, and you hate research, you might want to consider ghostwriting novels or freelance blogging in fields that require skilled storytelling (travel, arts, lifestyle, etc).
2. Know Your Strengths and Find Your Niche
The second step is to figure out what industry niche you would like to pick. Think about your interests and your passion. Are you an expert in some field, or maybe you have significant knowledge in some areas?
Being a generalist writer is a terrible way to make money. You'll usually end up underpaid just because you'll have a lot of competition.
Many times, generalist writers are willing to work for extremely low rates that would only make sense if you lived in a third-world country.
But, if you specialize, you'll find that you'll have less competition and you'll be able to charge higher rates.
Think about what skills you have that others don't:
Maybe you were a lawyer and would be able to write for law firm blogs? Or maybe you were an insurance agent and can now write about insurance?
Maybe you invested in cryptocurrency and are well-versed in that field? Or maybe you know a lot about cars and could write for the auto industry?
Quick Tip: Make a list of your skills and knowledge areas. After that, rank them in order of your interest in them and take into account how well it pays to write in that field. Ideally, pick one industry (but three at most)!
3. Build Your Portfolio or Freelance Writing Website
Once you decided on the type of writing and the field to write in, it's time to build a portfolio.
Having a portfolio will make the process of becoming a freelance writer so much easier for you. But, what should you include in it if you don't have a previous writing job?
The more great samples you have, the better! But, personally, I think you just need one great sample to show a client. So, I would recommend writing the best sample you can rather than three mediocre ones.
Quick Tip: Once you have a great sample, I would move on to step 4, and start pitching clients right away while you build a more extensive portfolio and a personal website. Too many writers spend months building a portfolio when there are clients out there who will hire you on the basis of a single great sample. Don't waste time!
So, how can you build a more extensive portfolio?
Guest post for websites in your field.
Start your own website in the field and post articles there.
I'm a big proponent of both methods.
Guest posting for legitimate websites in your field will help you build a brand and name recognition.
Building your own website will allow you creative control over the content, the ability to build a stronger brand, and even allow you to make passive income down the road from your blog (using affiliate income, ads, sponsored posts, and more).
4. Start Pitching Clients
How to Get Clients as a Freelance Writer
This is probably what most writers struggle with. Many get stuck at stage 3, constantly perfecting and polishing their portfolio, as it's hard to face rejection pitching clients.
Quick tip: The better you get at taking rejection, the better you will become at getting high-paying clients.
Personally, I've found these are the ways to get good clients (from most desirable to least desirable):
Referrals from people you worked with who are familiar with your talents!
Referrals from friends, family, acquaintances.
Networking in industry groups, writer groups, etc
Cold Outreach
Freelance Job Boards
Content Sites
You might wonder why this order? Well, it's mainly about competition. The further down the list you move, the more competition you have and the lower the rates become.
Resources You Might Find Useful at This Stage:
Hourly Rates & Contracts:
Freelance Job Boards & Content Sites:
Related Content: 10 Popular Remote Job Boards You Need to Use in 2021. You can find remote jobs as a writer here, sometimes full-time and other times, on a freelance basis.
Networking:
Reach out to website owners and other freelance writers in your niche to learn about more jobs. You can create a LinkedIn profile and join many online freelancing groups.
You can find jobs and learn things that can help you become a better and more successful writer.
For example, search for a company in your niche on LinkedIn and check out their website and blog. Pop over to LinkedIn and click 'people' to see the employees in that company.
Then, click to connect to the employees who have 'content' or 'marketing' in their title, and send an introduction without asking for a job. The purpose is to establish a connection with them.
5. Continuously Improve Your Writing Skills
When you are trying to become a freelance writer, it's important to improve your skills by writing every day, even for free. So, when you are out of job, write on your blog to keep your skills sharp and pitch clients!
Not only that this will help you become a better writer and increase your rates, but the things you write can be added in your writing portfolio and blog, potentially even bringing you some passive income.
6. Invest in Writing Tools to Make Your Job Easier
There are many digital tools out there designed to make freelance writing easier for those who use them.
When it comes to freelance writing, simple spelling and grammatical mistakes can be unforgivable, depending on your client. So don't take the risk, and put your mind at ease by writing with tools such as:
7. Set Realistic Short-Term and Long-Term Income Goals
Like with most things, becoming a highly-paid freelance writer will take time. Initially, you might have to take lower-paid jobs to build a portfolio and writing skills.
Sometimes, getting to a full-time income can happen very quickly if your writing skills are already amazing AND you pick a highly-paid niche with low competition. But most of the time, it will take patience and it will be very hard in the beginning.
Don't quit your day job until you're making a full-time income with freelance writing work!
Once you've started making a full-time income, you can start being a lot more selective with the work you're taking on, and you can charge higher rates!
---
With enough practice, patience, and good work, freelance writing can put you on the path to a life where you can take back control of both your time and financial independence.
And while freelance writing is competitive, there are still plenty of opportunities online to work with clients and write in fields your writing style suits.
This 7-step plan is a great place to start. It will allow you to approach freelance writing with realistic expectations and a plan of action you can follow and adapt over time.
Work hard, be smart, and just don't give up! Being a freelance writer takes time and effort, but it's definitely worth it.
---
Eager to start your new career as a freelance writer? Keep this 7-step plan in a safe place by saving it to one of your finance or self-development Pinterest boards.