This post may contain affiliate links, meaning if you book or buy something through one of these links, I may earn an affiliate commission at no additional cost to you. Learn more
Plan a festive, joyous, and fun-filled December in style with these December calendar printables, perfect for your noticeboard, fridge, or your desk binder.
December Calendar Printables
December can be a crazy month. The celebrations, works-dos, and events come thick and fast, not to mention all the shopping that needs to be done.
So bring some order and structure into the busiest month of the year with one of our December 2021 calendars.
Ideal for printing off and laminating, our printable calendars can be used to doodle, plot, scribble, and organize everything that needs to be done before 2022 and a brand new year arrives.
Free December Calendar
Our clear, simple, and colorful December calendar is simple to use and runs on a Sunday to Saturday structure.
Each day has plenty of room to scribble notes, key dates, or however you best organize your time.
Get it here
Lined December Calendar
If you like your calendars with a little more structure, our lined December calendar allows you to neatly organize your notes, dates, and to-dos on their corresponding days.
Landscape, running from Sunday to Monday, this is a great calendar if you're an avid note taker, and prefer to write detailed, specific notes and to-dos.
Get it here
December Calendar with Notes
Need a little extra room for your notes, reminders, and details? Our colorful December 2021 calendar, complete with notes section, is a great choice for you.
This way, you can keep key dates and events separate from your thoughts and more detailed notes.
Running from Sunday to Monday and square in format, this is a great choice of calendar if you like to take reminders and notes, but want to keep the calendar separate for dates and events.
Get it here
Portrait December Calendar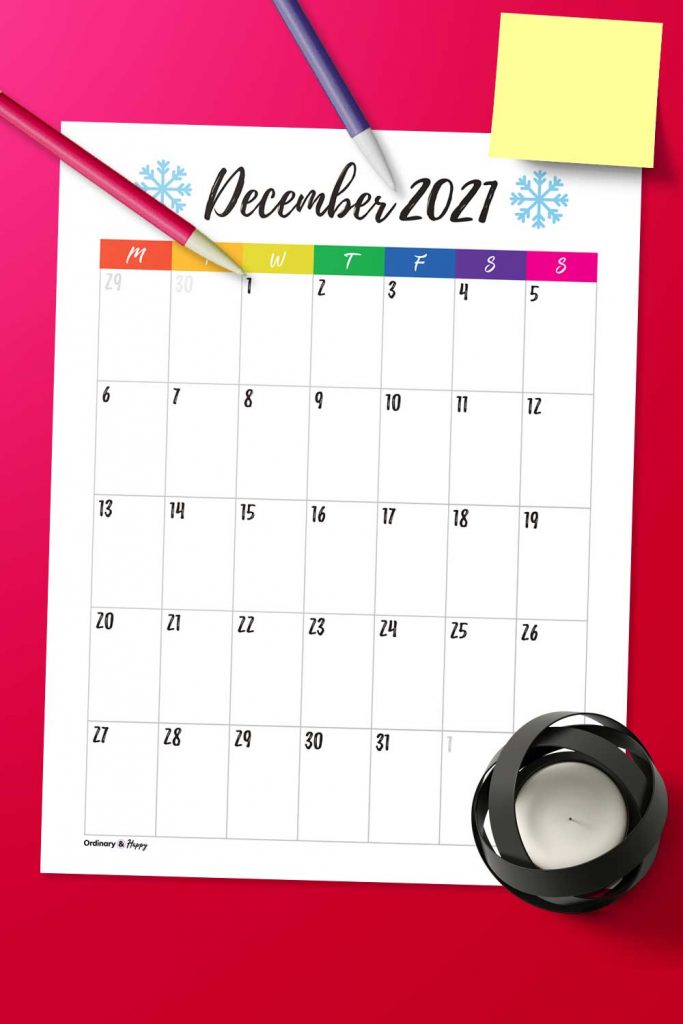 If you use binders, or most of your organizers and printables are in portrait format, we also have a portrait calendar for you to use.
The portrait format gives you longer squares for each day, ideal for scribbling, doodling, and longer notes.
This calendar also runs from Monday to Sunday, if you prefer to start everything on a Monday.
Complete with snowflakes and rainbow color palette, this calendar can take pride and place on your fridge, desk, or wall, and keep you organized and on top of everything.
Get it here
---
December may be a busy month, but it's often packed with so much fun, joy, and celebration. That's why it's important to stay on top of everything there is to do.
With a calendar, you can plan ahead and stay on track, freeing up your time and energy to spend it with family, friends, and loved ones through the holiday period.
You Might Also Like to Read
---
Keep these December calendars for safekeeping by saving this article to one of your Pinterest boards.