This post may contain affiliate links, meaning if you book or buy something through one of these links, I may earn an affiliate commission at no additional cost to you. Learn more
Looking for a delicious brioche French toast recipe for a lazy Sunday in? My recipe is indulgent, rich, and comes with a delightfully tart twist. Give it a try!
Brioche French Toast Recipe
This is one of my favorite Brioche French Toast recipes. I brought a bit of my time in Bali and Thailand to it with the addition of passion fruit!
Topped with passion fruit, banana, and maple syrup, this Brioche French Toast recipe is sweet and tangy at the same time.
If you want it a bit less tangy, add whipped double cream to the toppings and the tanginess will subside.
---
Brioche French Toast Recipe Card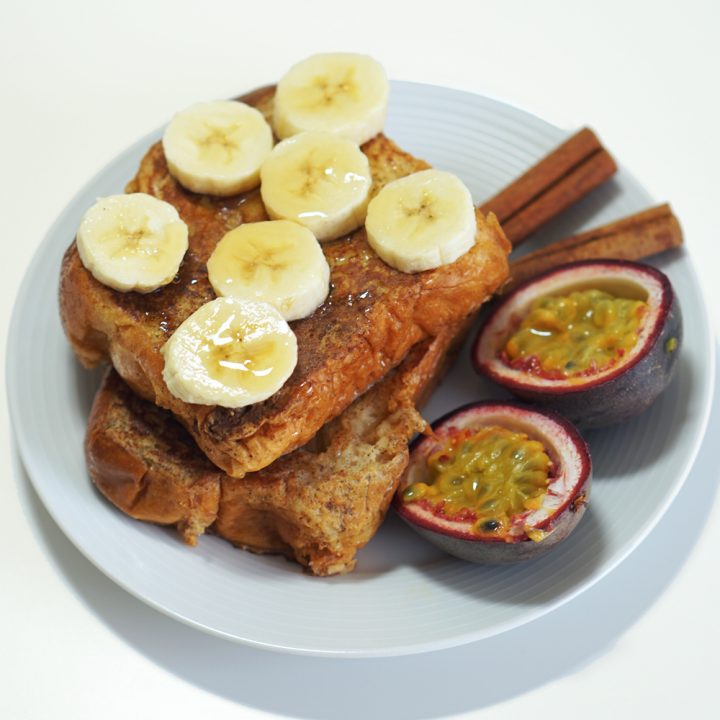 Brioche French Toast
Brioche french toast topped with delicious passion fruit, banana, and maple syrup
Ingredients
4 slices day-old brioche bread the thickness of the slices should be between 3/4 inch and an inch (1.9 cm-2.5cm) and the bread should be stale (at least day-old bread)
1 egg
1/3 cup milk
1/2 tsp cinnamon
1/2 tsp vanilla
1 banana
2 passion fruit
maple syrup
butter optional
Instructions
Create the custard mixture by beating the egg, milk, cinnamon, and vanilla in a medium-sized bowl very well.
Preheat the pan or griddle to medium heat and, optionally, add some butter.
Dip the slices of bread (one-by-one) in the custard mixture on both sides for only a few seconds. If you soak the bread too much, the center of the french toast will be soggy.
Place the slices of the bread on the preheated griddle or pan. Cook for a few minutes until browned on one side, then flip and cook for a few more minutes until browned on the second side.
Once the bread is browned, remove from the heat and serve it topped with passion fruit, banana slices, maple syrup, and, optionally, butter or cream
---
Sweet, tangy, and truly wholesome, this awesome recipe puts a fun little twist on a truly classic dish. I really hope you enjoy it, and that it puts plenty of smiles on friends, family, and loved ones!
---
Keep these brioche French toast recipe for a lazy Sunday by saving this article to one of your recipe boards on Pinterest.